Vox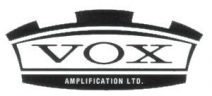 Vox is a musical equipment manufacturer which is most famous for making the Vox AC30 guitar amplifier, the Vox electric organ, and a series of innovative but commercially unsuccessful electric guitars and bass guitars. Founded in Kent, England, Vox has been owned by the Japanese electronics firm Korg since 1992.
The Jennings Organ Company was founded by Thomas Walter Jennings in Dartford Kent, England after World War II. Jennings's first successful product was the Univox, an early self-powered electronic keyboard similar to the Clavioline.
In 1956 Jennings was shown a prototype guitar amplifier made by Dick Denney, a big band guitarist and an old workmate from World War II. The company was renamed Jennings Musical Instruments, or JMI, and in 1958 the 15-watt Vox AC15 amplifier was launched. It was successful, popularized by The Shadows and other British rock 'n' roll musicians.
In 1959, with sales under pressure from the more powerful Fender Twin and from The Shadows, who requested amplifiers with more power, Vox produced what was essentially a double-powered AC15 and named it the AC30. The AC30, fitted with alnico magnet-equipped Celestion "blue" loudspeakers and later Vox's special "Top Boost" circuitry, helped to produce the sound of the British Invasion, being used by The Rolling Stones, The Beatles, The Kinks and the Yardbirds, among others.
2 Products

Ask for our offer
Regular price: CHF 813.00
VAT 8% included. Without shipping costs.
Description:
Vox Custom amps offer 2 channels: Normal and Top Boost. Each channel is equipped with its own Volume control, and the Top Boost channel offers highly interactive Treble and Bass tone controls. This powerful channel pairing provides an abundance of tone-crafting control, letting you dial in a classic...

Ask for our offer
Regular price: CHF 1,289.00
VAT 8% included. Without shipping costs.
Description:
The VOX AC30 combo amp has been an icon for decades, known as the sound that powered the 1960s' British Invasion. Based on the classic AC30 design, the all-new Custom Series AC30C2 offer numerous up-todate enhancements, delivering the most versatile AC30 design in VOX history....
You didn't find the item you're looking for?
You couldn't find what you wanted in our selection of items? No problem! We can get it for you, and at the best price!!!
If you know the brand or the model – or any other reference – let us find it for you. You'll be informed of the terms and delivery period very quickly.
Contact us by phone or by e-mail or – if you have all the useful information – using the On request form available here.