Leadmusic, Geneva - Switzerland
2 rue Albert-Richard,
+41 22 731 62 72
DB-11 Decibel Eleven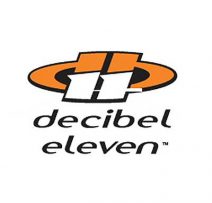 Founded by engineers and professional musicians obsessed with sound quality, the Decibel Eleven team has over 30 years of innovative electronics design and manufacturing experience. Products developed by DB-11 engineers include category-leading designs for Alesis, Voodoo Lab, Gibson Audio Labs, Line 6, Event Electronics and American DJ. Our singular goal is to create the highest quality products with the performance, features and value that professionals demand.
Decibel Eleven is a division of MYE Inc., a multi-million dollar Southern California electronics design and manufacturing company with state-of-the-art production facilities in the USA and abroad. MYE designs and manufactures audio and visual products for several industry sectors including professional music, commercial fitness, restaurant and hospitality.
2 Products
Description:
Decibel Eleven follows up its successful Dirt Clod Analog Overdrive Distortion pedal with the introduction of the Time After Time Analog Delay Pedal with Digital Control. A true analog delay pedal, Time After Time combines vintage bucket brigade technology with modern features and control....
Description:
The Decibel Eleven Dirt Clod™ guitar effects pedal is a fully analog overdrive distortion pedal featuring 10 memory presets. Whatever music you play, the Dirt Clod provides a wide range of distortion sounds with two styles of clipping in addition to variable mid and high controls. You may easily sav...
You didn't find the item you're looking for?
You couldn't find what you wanted in our selection of items? No problem! We can get it for you, and at the best price!!!
If you know the brand or the model – or any other reference – let us find it for you. You'll be informed of the terms and delivery period very quickly.
Contact us by phone or by e-mail or – if you have all the useful information – using the On request form available here.