Leadmusic, Geneva - Switzerland
2 rue Albert-Richard,
+41 22 731 62 72
Pre-War Guitars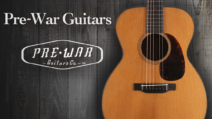 Wes Lambe and Ben Maschal founded "Pre-war Guitars Co." with the idea of building a different kind of vintage-inspired Guitar. One that has the sound, the feel, and the look to match. "To us it is simple. We love perfectly setup, adjustable, old sounding, and old/beat up looking guitars, and that's what we make."
2 Products
Description:
******************** Guitar just sold, sorry. Another Pre-War O aged level 1 will be aded soon on our website, feel free to contact us for further details. ********************* And again a little gem from the Pre-War Guitars workshops, what a killer !! Cause, yes,...
Description:
******************  That cool guitar sold, a next available production batch for mid 2024, feel free to contact us   ******************************* Between the crazy delivery time, yes, this one was ordered in february 2022, and received at the end of...
You didn't find the item you're looking for?
You couldn't find what you wanted in our selection of items? No problem! We can get it for you, and at the best price!!!
If you know the brand or the model – or any other reference – let us find it for you. You'll be informed of the terms and delivery period very quickly.
Contact us by phone or by e-mail or – if you have all the useful information – using the On request form available here.