Leadmusic, Geneva - Switzerland
2 rue Albert-Richard,
+41 22 731 62 72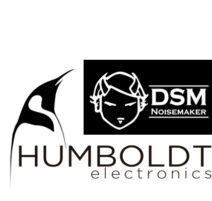 Humboldt electronics was born in 2015 in Santiago de Chile as the first company producing effects pedals in sustainable, solid, FSC certified, 100% wooden enclosures. In a short time it became the first Chilean brand of effect pedals selling in Japan, the USA and other countries. In late 2019 DSM Noisemaker and Humbolt Electronic, 2 Chilean companies, collaborated and created DSM & Humbolt, and early 2020, the new Simplifier was released and this amazing piece of gear os about to change the way guitar players and bass players use their gear on stage or in studio.
2 Products
Description:
Here's an amazing compact and lightweight prpduct that can be nicknamed zero-watts tube amplifier. The collaboration between two Chilean companies DSM Noisemaker and Humboldt Electronic bring the Simplifier to life, and this amazing solution will fit in every stage or studio rigs. It is the...
Description:
The DSM & Humboldt Simplifier Bass Station is a sleek, stylish amp-in-a-box and cab sim equipped with a host of pure analogue parameters and integral connections. Craft your own unique sound in a hands-on, visceral approach. The Simplifier Bass Station covers a lot of ground, from honky...
You didn't find the item you're looking for?
You couldn't find what you wanted in our selection of items? No problem! We can get it for you, and at the best price!!!
If you know the brand or the model – or any other reference – let us find it for you. You'll be informed of the terms and delivery period very quickly.
Contact us by phone or by e-mail or – if you have all the useful information – using the On request form available here.