Leadmusic, Geneva - Switzerland
2 rue Albert-Richard,
+41 22 731 62 72
Tom Anderson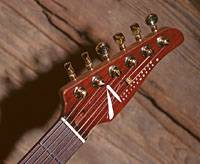 Unlike many of the other guitar manufacturers, Tom builds less than 900 guitars a year. In 1999, Anderson Guitarworks produced a total of 829 guitars. This allows the factory to maintain the strictest quality in today's custom guitar market.Tom Anderson began his career in the guitar business in 1977 at Schecter Guitars. From 1977 until 1984 Tom was head of research and development at Schecter. One day in 1984, Tom decided to leave Schecter Guitars. Dave Schecter, who remains friends with Tom, suggested that Tom form his own business. With support from his family, Tom described the start-up of his business as a
2 Products
Description:
We already had a few Tom Anderson Raven, but that Superbird is a really special one !!! This model was seen at the NAMM 2019 and Anderson agreed to reproduce it for us as a special order, here's our version of the nicest looking Raven Superbird featured in Anderson's website as "the darling of...
Description:
We saw the exact same guitar on the Tom Anderson booth at the NAMM show in 2019 and wanted one as well, except that we asked Caramel Maple for our neck. This guitar has some serious character and looks like a real workhorse thanx to its In Distress level 2! A perfect black finish with some...
You didn't find the item you're looking for?
You couldn't find what you wanted in our selection of items? No problem! We can get it for you, and at the best price!!!
If you know the brand or the model – or any other reference – let us find it for you. You'll be informed of the terms and delivery period very quickly.
Contact us by phone or by e-mail or – if you have all the useful information – using the On request form available here.