Leadmusic, Geneva - Switzerland
2 rue Albert-Richard,
+41 22 731 62 72
EVH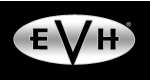 Since 2005 EVH is the brainchild of Rock and Roll hall of fame inductee Edward Van Halen and the legendary tone masters of Fender. Combining all the features, quality standards and tone Ed requires and demands of his gear, this all new amplifier and guitar company sits in a class by itself. The 5150 III amp gives you very flexible tones that range from clean or crunch to full-out distortion, for limitless inspiration.
2 Products
Description:
Leadmusic is proud to be one of the very few European music shops (and the only one in Switzerland) to have a the EVH '79 Bumblebee, for sale, a limited-edition replica of Eddie Van Halen's "Bumblebee" guitar. Built to mirror Bumblebee's configuration during...
Description:
The EVH Eddie Van Halen 5150 III 2x12 Guitar Speaker Cabinet is the perfect companion for the new EVH 5150 III 50 watt head. It delivers a pure EVH sound and power in a portable package. The 5150 III 2x12 cabinet is rated at 16 ohms and is packed with dual 30 watt Celestion Heritage speakers. It is...
You didn't find the item you're looking for?
You couldn't find what you wanted in our selection of items? No problem! We can get it for you, and at the best price!!!
If you know the brand or the model – or any other reference – let us find it for you. You'll be informed of the terms and delivery period very quickly.
Contact us by phone or by e-mail or – if you have all the useful information – using the On request form available here.