Leadmusic, Geneva - Switzerland
2 rue Albert-Richard,
+41 22 731 62 72
EBow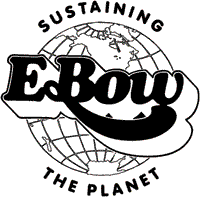 Since 1976, the EBow has been making music. Groups such as U2, Blondie, Elton John, Van Halen, Phil Collins, Queen, REO Speedwagon, David Bowie and Blue Oyster Cult, just to name a few, have thrilled their listeners with the sounds of the EBow. Buddy Emmons uses his on steel guitar. Chris Proctor EBows his acoustic guitar. Windham Hill's Michael Manring has even figured out how to use one on bass guitar! The applications for the EBow are diverse. And now with the new EBow Plus, you get more sound, more craziness and more….sustain.
1 Product
Description:
The EBow is a hand-held electronic bow for guitar. The small battery-powered unit replaces the pick in the right hand letting the guitarist mimic strings, horns, and woodwinds with unbelievable sensitivity. The EBow produces a powerful infinite sustain, rich in harmonics for incredible guitar sounds...
You didn't find the item you're looking for?
You couldn't find what you wanted in our selection of items? No problem! We can get it for you, and at the best price!!!
If you know the brand or the model – or any other reference – let us find it for you. You'll be informed of the terms and delivery period very quickly.
Contact us by phone or by e-mail or – if you have all the useful information – using the On request form available here.