Leadmusic, Geneva - Switzerland
2 rue Albert-Richard,
+41 22 731 62 72
Schertler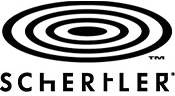 Founded in the early 1980s with the goal of perfection in the reproduction of sound of acoustic stringed instruments, SCHERTLER today produces the most innovative and unique transducers available. After nearly twenty years of groundbreaking research and development in an effort to provide alternatives to outdated and imperfect piezo technology, SCHERTLER PRODUCTS are fast becoming the standard for live sound presentation. With products suitable for a wide variety of applications, from individual performers to entire orchestras, SCHERTLER transducers are the new benchmark for amplified acoustic sound.
Enter the world of SCHERTLER and discover the best
solutions to amplify the sound of YOUR acoustic instrument.
2 Products
Description:
The AG6 is designed to fit inside the guitar's sound hole. It is equipped with a volume control and has an external input (with separate volume control) for connecting a second pickup. Sound from both pickups can be blended using the volume controls to create just the right sound for a particular pe...
Description:
DAVID becomes the second member of Schertler's "next generation" acoustic amplifier series. This newly-designed 3-channel amp,...
You didn't find the item you're looking for?
You couldn't find what you wanted in our selection of items? No problem! We can get it for you, and at the best price!!!
If you know the brand or the model – or any other reference – let us find it for you. You'll be informed of the terms and delivery period very quickly.
Contact us by phone or by e-mail or – if you have all the useful information – using the On request form available here.