Leadmusic, Geneva - Switzerland
2 rue Albert-Richard,
+41 22 731 62 72
Suhr Guitars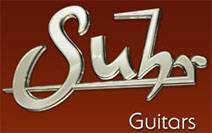 John Suhr first started building and designing guitars with buddy John Pensa back in 1980. They created the brand Pensa Suhr who remains among the best guitar companies USA had durring the 80's. The two parted ways in March 1990 when Suhr left Pensa's workshops to work for Fender as a Senior Master Builder at the Californian company's Custom Shop and established JS Technologies, Inc. with partner Steve Smith in 1997.
Before long, Suhr and his team were building guitars for legends like
top studio player Mike Landau, jazz/fusion giant Scott Henderson,
rock/shred virtuoso and all-around guitar phenomenon Guthrie Govan, and
Reb Beach of Whitesnake. Several other highly skilled builders and craftsmen have since joined
Suhr, lending the company well over a century of collective
guitar-building experience. All together, 30 employees at Suhr Guitars
create an average of 150 guitars and 60 amplifiers each month-and the
company currently has a five-month backlog of orders.
The company designs, engineers, manufactures and distributes its
products in-house-a process that requires a balance of old world
craftsmanship and modern technology. Suhr Guitars cuts its own necks,
bodies, and pick guards on state-of-the-art CNC routers, creating
one-of-a-kind pieces of art. Each guitar is detailed prior to painting
and assembly, providing enhanced control over quality and consistency.
Once all the pieces are routed and ready, a builder assembles the
guitar to exact specifications. The company's paint process ensures
that the beauty of the wood shines through and contributes to the tone
of the instrument.
Suhr Guitars don't merely produce some of the finest hand-crafted
guitars and amplifiers – they produce dreams that inspire musical
passion and artistic creativity. Their fervent dedication to the
highest quality standards possible, their famous fanatical attention to
detail, their ears for tone, and their love for music ranging from rock
to country to jazz to blues to pop to metal to fusion are all evident
in every instrument they produce.
LEADMUSIC regularly stocks custom ordered and special Suhr guitars and can order any Suhr instrument at the best rates available. Call or email for any offers.
0 Product
You didn't find the item you're looking for?
You couldn't find what you wanted in our selection of items? No problem! We can get it for you, and at the best price!!!
If you know the brand or the model – or any other reference – let us find it for you. You'll be informed of the terms and delivery period very quickly.
Contact us by phone or by e-mail or – if you have all the useful information – using the On request form available here.