Leadmusic, Geneva - Switzerland
2 rue Albert-Richard,
+41 22 731 62 72
Preston Thompson Guitars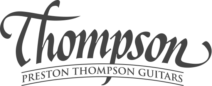 In the late 1970s, Preston Thompson moved from Texas to Vermont to learn the art of lutherie at Charles Fox's School of the Guitar Research & Design Center. He'd eventually spend time at Randy Wood's legendary Pickin' Parlor before returning to Fox's school, setting up his own shop and working for numerous flatpicking legends, including Charles Sawtelle and Peter Rowan.
Thompson now resides in Bend, Oregon. After a long stint away from guitarmaking to serve as a Director of Marketing at a local golf resort, he has started making guitars again. Operating out of a small shop in Sisters, Oregon, Thompson and his team are busier than ever crafting guitars inspired by vintage Martins. This year, he expects to make around 75 instruments. Chris Luquette, Jake Workman, Billy Strings, Molly Tuttle and others are artists who play with Preston Thompson Guitars.
2 Products
Description:
Here's a new Preston D-SMA, a wonderfull Dreadnought. Leadmusic is proud to have Thompson Guitars in their range of high end guitars, as these instruments beats any high end Martin you could purchase for twice (or more) the price. Also,...
Description:
Oooooh boy i waited for this one !! After seeing and meeting Molly Tuttle at La Rohe Sur Foron at the Bluegrass festival in 2019, I ordered from Thompson, as soon as the Tuttle Signature was announced, a DMT-SMA, meaning by that, a Dreadnought Molly Tuttle Signature in Sinker Mahogany and...
You didn't find the item you're looking for?
You couldn't find what you wanted in our selection of items? No problem! We can get it for you, and at the best price!!!
If you know the brand or the model – or any other reference – let us find it for you. You'll be informed of the terms and delivery period very quickly.
Contact us by phone or by e-mail or – if you have all the useful information – using the On request form available here.