Leadmusic, Geneva - Switzerland
2 rue Albert-Richard,
+41 22 731 62 72
Gretsch Guitars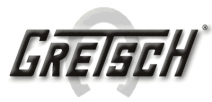 Gretsch was founded in 1883 by Friedrich Gretsch, a young German immigrant. His Brooklyn shop was made for the manufacture of banjos, tambourines, and drums. In 1895, at the age of 39, Gretsch died, and the successful company was taken over by his son Fred.Fred never found an adequate successor, and in 1967 Gretsch was sold to Baldwin Pianos,becoming a subsidiary.
The "Baldwin era" is not generally considered a high point in Gretsch history, though new models were introduced through the seventies and old favorites soldiered on. In 1979, after Fred Jr's death, Chet Atkins withdrew his endorsement in response to quality problems and Gretsch's unwillingness to pursue his vision of a solidbody nylon-string guitar. Factory fires in the early 1970s caused serious problems, and production was finally halted by Baldwin in 1981.
In 1989, another Fred Gretsch, nephew of Fred Jr., and his wife Dinah once again acquired their namesake company. Fred Gretsch and long-time Gretsch employee Duke Kramer, who advised Gretsch, turned to Terada of Japan, and production began anew. A range of reissues appeared throughout the nineties to mixed reviews. They were of generally high quality, but with notable non-vintage details and features; occasional US-built "Custom Shop" models were offered at significantly higher prices.
In late 2002, Gretsch and Fender reached an agreement giving Fender most control over marketing, production and distribution of guitars (although the Gretsch family still owns Gretsch Guitars).
2 Products
Description:
The G5420T Electromatic Hollow Body is a sharp Gretsch guitar with a bound single-cutaway hollow body featuring sound-post bracing and elegant bound f-holes. This Special Run version features a stunning Snowcrest White finish to complement the gold hardware. The pickups are...
Description:
Alive and loud, Electromatic® Center Block Jr. guitars are designed for that pure and powerful Gretsch® sound at high volume. Painstakingly crafted with essential Gretsch sound, style and playability, these all-new models deliver the fearless and electrifying authenticity that has set Gretsch...
You didn't find the item you're looking for?
You couldn't find what you wanted in our selection of items? No problem! We can get it for you, and at the best price!!!
If you know the brand or the model – or any other reference – let us find it for you. You'll be informed of the terms and delivery period very quickly.
Contact us by phone or by e-mail or – if you have all the useful information – using the On request form available here.