Leadmusic, Geneva - Switzerland
2 rue Albert-Richard,
+41 22 731 62 72
Super-Vee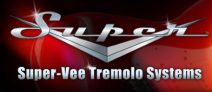 1 Product
Description:
The Super-Vee Mag-Lok is the single most innovative advancement in tremolo technology since a long time. The patented Mag-Lok is an anti-deflection device that will stabilize your tremolo for tuning stability, especially during double-stop bends. Yeah, there have been other products that pop up from...
You didn't find the item you're looking for?
You couldn't find what you wanted in our selection of items? No problem! We can get it for you, and at the best price!!!
If you know the brand or the model – or any other reference – let us find it for you. You'll be informed of the terms and delivery period very quickly.
Contact us by phone or by e-mail or – if you have all the useful information – using the On request form available here.