Leadmusic, Geneva - Switzerland
2 rue Albert-Richard,
+41 22 731 62 72
Maton Guitars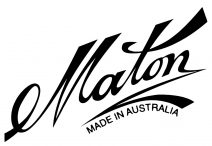 Maton is an Australian manufacturer of guitars and other fretted musical instruments and was founded in 1946 as the Maton Musical Instruments Company by Bill May and his brother Reg. Reg was a wood machinist, and Bill a jazz musician, woodwork teacher and luthier who had for some years operated a custom guitar building and repair business under the name Maton Stringed Instruments and Repairs. The name "Maton" came from the words "May Tone" and is pronounced May Tonne.
1 Product
Description:
It takes a great guitar to meet the demands of such a great player. Designed in conjunction with guitar great Tommy Emmanuel, the TE series guitars are an outstanding tribute to Tommy's musicianship and Maton's superior craftsmanship. Built to Tommys specifications, the TE series provides the huge t...
You didn't find the item you're looking for?
You couldn't find what you wanted in our selection of items? No problem! We can get it for you, and at the best price!!!
If you know the brand or the model – or any other reference – let us find it for you. You'll be informed of the terms and delivery period very quickly.
Contact us by phone or by e-mail or – if you have all the useful information – using the On request form available here.