Leadmusic, Geneva - Switzerland
2 rue Albert-Richard,
+41 22 731 62 72
Collings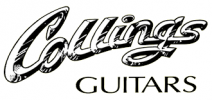 Bill Collings moved from Ohio to Texas in the mid 1970's and this move enabled him
to combine lifelong interests in both guitars and tools into the
challenge of stringed instrument building and repair. After a couple of
years in Houston, several guitars and a few banjos later, he headed west
to southern California. In 1989, he rented a 1000 square foot space and hired two
helpers.
That same year, an order for 24 custom "Gruhn" guitars helped to
establish Bill in the national market. In late 1991, a 3200 square foot
"feed store" was purchased, on the outskirts of Austin, and was occupied
in the spring of 1992. By 2005, the size of the shop had tripled with
50 full-time employees and ground was being broken for a new 22,000
square foot shop. The addition of CNC technology helped to add a level
of consistency, accuracy and safety to parts production that was
previously unavailable. As the business grew and processes were refined,
there is one thing that did not change…Bill Collings' commitment to
building the finest acoustic steel string instruments possible.
In 1999, Bill Collings started production of the first Collings
mandolins which, like his guitars, quickly set new standards for the
industry. Years later, Collings mandolins have expanded to include seven
models in both lacquer and varnish finishes.
2 Products
Description:
We had a lot of D2H with rosewood back and sides, but this gem is the first D2H we got with a Torrefied Sitka top, and Oulah...Or Waouhhh!!! and so many other onomatopoeia justify the wonder at the sight and listening to this splendid bomb!! This Collings D2H Torrefied Top offers a welcome...
Description:
Here is another OM2H which reaches us but the first with a top Torrefied Sitka, and Aouch, that guitar is a fantastic instrument!!! So, yes, aouch, that's what you'll say at the sight and the listening of this splendid bomb which offers a welcome revival in the select world of quality OMs, both...
You didn't find the item you're looking for?
You couldn't find what you wanted in our selection of items? No problem! We can get it for you, and at the best price!!!
If you know the brand or the model – or any other reference – let us find it for you. You'll be informed of the terms and delivery period very quickly.
Contact us by phone or by e-mail or – if you have all the useful information – using the On request form available here.