Leadmusic, Geneva - Switzerland
2 rue Albert-Richard,
+41 22 731 62 72

Ask for our offer
Regular price: CHF 6,190.00
VAT 7.7% included. Without shipping costs.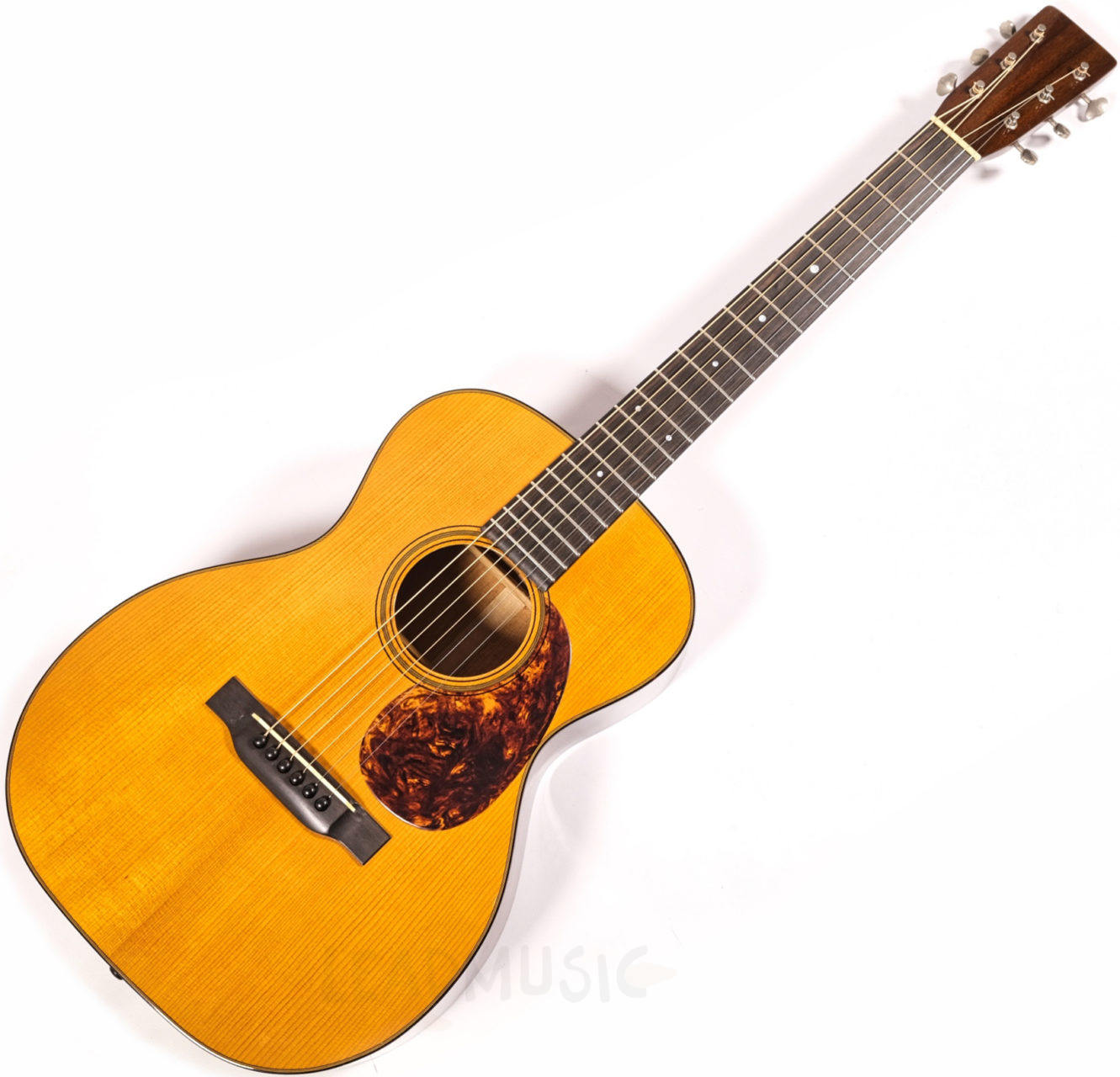 Information:
******************** Guitar just sold, sorry. Another Pre-War O aged level 1 will be aded soon on our website, feel free to contact us for further details. *********************
And again a little gem from the Pre-War Guitars workshops, what a killer !! Cause, yes, this O model in aging level 1 is definitely a killer guitar. We have had a quantity of Martin 0-18 in stock in recent years, and none, really, reaches this Pre-War in terms of sound, playability and obviously condition, as you risk paying between 4500.-chf and 5000.-chf for a 0-18 from the 60s, with almost always a dead neck angle that needs a neck-reset, a flush nut and dead frets … Anyway … There, really, in this register of guitars, forget the vintage, it is not worth at all …
So yes, a crazy delay (ordered in January 2019, received at the end of March 2021 … that's it …) but thanks to the quality and authenticity of the manufacture and the finish, we understand that Pre-War Guitars has become for a few years now, the darling of high-end acoustic instruments and the most sought-after brand of folk artists and Bluegrass.
This guitar is a marvel, and having very often had old Martin O's in our store, there, we can definitely stop thinking about finding an old Martin easy to play, which sounds good and which does not cost 4500. -chf or 5000.-chf… And so, Pre-War Guitars, and presto, we stop looking for a vintage Martin, because there, what Wes and Ben, the founders of this small high-end American brand, did, it's just awesome and superb.
This O is derived from an O-18 and has a mahogany back and sides with superb cut and grain and grain. The top is Adirondack spruce top and again the fit is perfect typical of period tables. The varnish and the finish are superb, patinated, and thanks to Aging Level 1, the instrument seems to come straight from the 1940s, with weather checks, small marks, traces of play, but no knocks or obviously cracks. The Adirondack bracing is roasted and the whole is built according to the principle of Hot Hide Glue, animal protein glue, typical of that used for centuries and until shortly after the Second World War, and quietly replaced by synthetic glue. Going back to many basics, Pre-War Guitars provides one of the best, and probably still the only brand really focused on the manufacture of the 30s and 40s.
Soundwise, with a small box like that, so light and well built, the tone is hyper woody and very open, with ample, open and musical mids. There are basses and especially volume, no worries, and though the tone is certainly rather vintage, in a register of rag time, blues or fingerpicking, this O is a marvel and will know how to do almost everything. And since the instrument is new, not yet opened, a few hours, weeks, months of play, and it will be a bomb !!!
Delivered with its original Harptone case and warranty documents
Specifications:
O with mahogany back & sides
Top material: Torrefied Adirondack spruce
Aging Level 1
Natural top finish.
Scale length: 25.4"
Honduran Mahogany neck w/two way truss rod
Standard 1937 « C » to « V » neck shape.
Fretboard and bridge material: Ebony
Neck width at nut: Vintage spec, 1 ¾"
Neck width at body joint/bridge spacing: Vintage spec2 5/16"
Binding material: Tortis
Bridge pins: Ebony Un-slotted
Nut and saddle: Bone
Harptone Case