Leadmusic, Geneva - Switzerland
2 rue Albert-Richard,
+41 22 731 62 72

Ask for our offer
Regular price: CHF 5,490.00
VAT 7.7% included. Without shipping costs.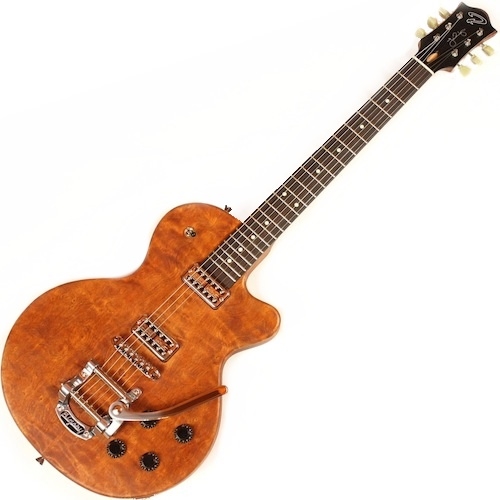 Information:
Well, folks, we have to admit that Gibson's Les Paul Special are among our favorite looking guitar. But that Ruokangas Unicorn Supersonic simply beats everything we had until now. This piece of excellent finish craftmanship has a wonderfull looking Bare Bone Amber finish with a fantastic looking Artctic Birch top and Cedar body, 2 TV Jones Setzer Signature Pickups, a B7 Bigsby and locking tuners. The body without any binding brings it's workhorse look aswell thanx to the amazing Bare Bone finish. So this baby looks like a real high end instrument without the too much and cheesy classy touches we often see on expensive gutiars. And be sure you'll play and plug it aswell, as it's a dream guitar.
The body and neck are made of spanish cedar, very lightweight and very resonant, it brings so much sustain and definition on the tone, you won't believe it. Thanx to the figured arctic birch top, this guitar also screams and has a very straight attack. Each notes jumps out of that axe. The cedar neck has a Big C shape with nickel jumbo frets. The Rosewoodfretboard (yes, we have the CITES documents) and superb fretjob helps this amazing neck beeing the most confortable we ever had. Damn this guitar is a killer player.
Original Ruokangas-Hiscox case, COA, CITES certificate and documentation. Oh, the regular waiting for a Ruokangas is usualy 8 to 10 months…
Specifications:
* Custom ordered guitar
* lightweight cedar body
* figured arctic birch top
* cedar neck with rosewood fretboard
* set neck construction
* Big C neck with jumbo nickel frets
* locking Gotoh SD510  tuners
* TV Jones Setzer Signature humbuckers
* B7 Bigsby
* original Ruokangas unmounted black pickguard and selector ring in the case
* high end built in Finland
* incl. Hiscox hardshell case, certificate, CITES documents and owner papers and kit