Leadmusic, Geneva - Switzerland
2 rue Albert-Richard,
+41 22 731 62 72

CHF 55.00
VAT 7.7% included. Without shipping costs.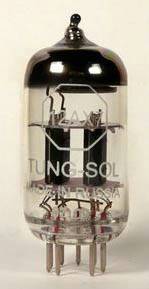 Information:
The Ultimate 12AX7. Big, warm, and musical. High Gain, ultra-low microphonics, and superb linearity with a dynamic 3-D sound.
Acquired by the NS Corporation, the Tung-Sol name and trademark is manufactured at their Xpo-Pul factory (Reflektor) in Saratov, Russia. The quality of the current production tubes has been improved.
Specifications: