Leadmusic, Geneva - Switzerland
2 rue Albert-Richard,
+41 22 731 62 72

Ask for our offer
Regular price: CHF 495.00
VAT 7.7% included. Without shipping costs.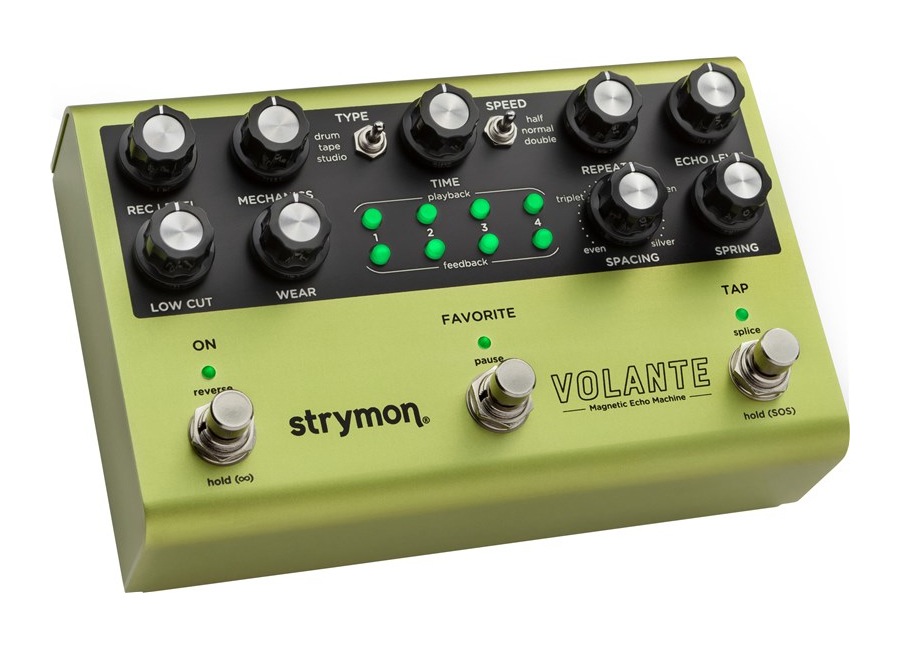 Information:
Strymon's Volante delivers the full gamut of analog-style echoes — magnetic drum echo, tape echo, and reel-to-reel studio echo. It's also a stereo multi-head delay with an onboard looper and independent vintage spring reverb. You can really dial in the vintage vibe with this pedal, from the natural saturation and soft clipping of overdriven magnetic media to mechanics, wear, head spacing, machine speed, and more. Enjoy complete control of every parameter via MIDI. Store up to 300 presets. Take command via expression pedal — Volante is primed for maximum emotional expression. Beyond that, instrument/line-level capabilities make it equally at home on your pedalboard or in the studio. Volante includes tap tempo, 24-bit/96kHz sound quality, and selectable true bypass/analog buffered bypass switching — it's one of the most feature-packed delays on the market.
Specifications:
Digital delay pedal that re-creates the full gamut of analog-style echoes
3 magnetic delay types: magnetic drum echo, tape echo, and reel-to-reel studio echo
4 playback heads with individual control over level, feedback, and panning
3 echo machine speeds exhibit an interesting range of effects
Magnetic record head saturation yields warm, luscious delay signals
Looper with reverse, tape stop, and speed change effects
Variable head spacing creates interesting sonic interactions
Produce sonic cacophony with self-oscillating feedback loops
Dedicated spring reverb adds dimension to your playing
Tap tempo footswitch lets you set tempo on the fly
Provides instant access to 8 presets with up to 300 available via MIDI
Expression pedal input for instantaneous, continuous control
Instrument/line-level capabilities make it equally at home on your pedalboard or in the studio
Selectable true bypass/analog buffered bypass switching