Leadmusic, Geneva - Switzerland
2 rue Albert-Richard,
+41 22 731 62 72

Ask for our offer
Regular price: CHF 49.00
VAT 7.7% included. Without shipping costs.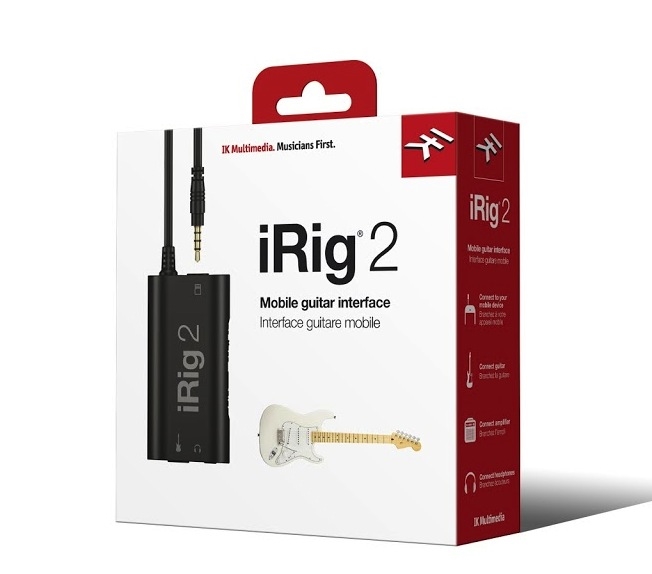 Information:
If you loved iRig's versatility, you'll love what iRig 2 brings to the table. Its new 1/4" output jack lets you use iRig 2 with an amplifier as a part of your live rig without the use of an adaptor.
This opens up a whole world of opportunities when paired with AmpliTube, IK's powerful guitar and bass multi-effects processor. It provides you with a vast library of meticulously modeled virtual stompbox effects, amplifiers and other gear that you can use as a part of your physical rig when you're jamming with friends, at a practice session, in the recording studio or performing live. Or, if you want to be discreet, plug your headphones into the included 1/8" headphone output.
Even better is that iRig 2 features a switch that lets you select between a processed signal and a clean "thru" input signal. This means you can also use your mobile device as a tuner, recorder or other tool while preserving the purity of a 100% analog signal path.
iRig 2 is there to help you make your practice and performance sessions as easy as possible. It comes with a microphone stand mount and Velcro strip that allow you to easy attach it for performance alongside other convenient tools like IK's iKlip range of mic supports for all sizes of smartphones and tablets.
iRig 2 has been made to be compatible with the widest range of instruments and mobile devices possible. Its built-in universal 1/8" TRRS output connector gives you a true plug-and-play experience with your iPhone, iPad, iPod touch, Mac or Android device.
Likewise, its 1/4" instrument input works with your guitar, bass or any line-level instrument. Just plug into it like you would into a stompbox or amplifier. It's as simple as that.
And because volume levels vary from instrument to instrument and from device to device, iRig 2 comes equipped with an input gain control knob that lets you dial in the perfect setting for your setup. You'll get great sound quality no matter whether you have a wailing 3 humbucker electric guitar running into your Samsung Galaxy Note 4 or a jazzy archtop connected to your iPhone 6.
Got an Android smartphone or tablet? Great! iRig 2's 1/8" output connector is compatible with many popular Android devices produced by manufacturers like Samsung, LG, Motorola, HTC and more — any device with an 1/8" input that supports the CTIA/AHJ wiring standard works with iRig 2.
Additionally, users with Android devices that support Samsung Professional Audio can enjoy AmpliTube for Android, a special version of the popular multi-effects processor that brings a full spread of meticulously modeled virtual gear to the Android platform.
Specifications:
* The sequel to the best-selling iRig interface
* 1/4" instrument input for use with guitar, bass and other instruments
* 1/4" amplifier output for use with an external amplifier without an adaptor
* 1/8" TRRS output for use with iPhone, iPad, iPod touch, Mac and Android
* 1/8" headphone output
* Compact and lightweight design
* Selectable dual-mode switch: FX and THRU
* Input gain thumbwheel for easy signal control
* Input Impedance: 380 kOhms
* Frequency Response: 20Hz-20kHz +/- 0.2 dB
* Comes with microphone stand Velcro strip
* Comes with AmpliTube FREE and a full suite of powerful IK applications and software
* Compatible with iOS Devices :
iPhone 6 Plus, iPhone 6, iPhone 5s, iPhone 5c, iPhone 5, iPhone 4s,
iPhone 4, iPhone 3GS, iPod touch (5th, 4th and 3rd generation), iPad Air
2, iPad mini 3, iPad Air, iPad mini 2, iPad 4th generation, iPad mini,
iPad 3rd generation, iPad 2, iPad. iOS 4.3 or later is required.
* Compatible with Android Devices :
To be compatible, the mobile device must be compliant with the CTIA/AHJ
wiring standard, which is illustrated as follows. As of today, all
popular Android devices branded Samsung, LG, Motorola, Google Nexus,
HTC, Huawei, Sony, Lenovo, Xiaomi and more, use this standard.
* Compatible with MAC :
Most Mac computers starting from late 2008 are compatible with the exception of the Mac Pro line.
To check if your Mac is compatible select: About This Mac > More Info > System Report > Audio
and check that "External Microphone / iPhone headset" is appearing on the list of included features.