Leadmusic, Geneva - Switzerland
2 rue Albert-Richard,
+41 22 731 62 72

Ask for our offer
VAT 7.7% included. Without shipping costs.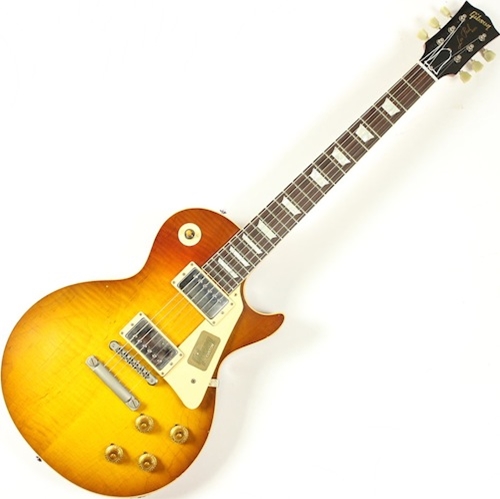 Information:
Guitar just sold, sorry. Another Knopfler Aged will be aded soon on our website, feel free to contact us for further details.

Here we have a unique and exceedingly rare True Historic Les Paul 1958 Mark Knopfler Aged & Signed. Yes, one of the 50 pieces sold within days in late 2016. This brand new guitar is a true gem, weight only 3.73 kilos and never was in display in our store. It comes with all the original hangtags, COA, Relic case and the original shipping card box. Leadmusic is the first owner of this gem, and for confidential purpose, as you can imagine, we won't show the serial number on our pictures.
This amazing Gibson Mark Knopfler 1958 Les Paul Aged & Signed has the True Historic specs, among them the Double Carved top and neck and the hand-rolled fretboard's edges. These specs are clearly outstanding the standardHistoric specifications founds on the regular Aged Mark Knopfler. We at Leadmusic had 4 Aged and 2 Aged & Signed, and yes, these 6 guitars were among the best Les Paul we ever had (and we had, or still have some 50's original vintage, Collector's Choice and Murphy's) but the 2 Aged & Signed have something more. This last one we have to offer on sale is an amazing instrument, with only 3.73 kilos, a super vibrant and resonant tone, lots of sustain and as you can imagine, thanx to its super light weight, a well balanced confort and ease of play. But not only the quality of the craftmanship and selection of woods brings this guitar to the next level. One of 50 pieces and Mark Knopfler's signature helps this instrument becoming one of the next rarest and most expensive recent Les Paul.
Back in 2004 with Jimmy Page's number one and 2009 with Jimmy Pag'es number two reissue Les Paul, these Aged and Signed instruments brought the value for recent second hand collectables Les Paul to a never reached before level. Some sold for more than 40'000$. Then in 2009, the 50 pieces Limited Edition Billy Gibbons Pearly Gates Aged & Signed, also actually could be seen proposed and sold for 30'000$ to 35'000$. No doubt these Knopfler Aged & Signed will experience the same kind of increase. One recently sold in January 2017 for 15'000$ in the USA, and one is online in February 2017 thru a German dealer for 22'000€.
Our guitar is a first hand, brand new, never displayed or exposed, never previously online as we're the first owner and comes with its original Relic case, COA, hangtags and the original shipping card Box.
Specifications:
* 1 of 50 Aged & Signed commercialised in late 2016
* 3.73kilos super lightweight
* Top and Neck: Double-carved to match the original profile and "dish"
* Finish: Thin, wet-sanded nitrocellulose lacquer
* Plastics: True Historic replica plastics
* Pickup Covers: True Historic replica covers
* Fingerboard Binding: "Rolled" binding for an instantly broken-in feel
* Playing Wear: Hand aged to match the condition of the original
* Peghead: "Broken" peghead and smooth edges, just like a '58
* Body and Neck Construction: All hot-hide glue construction
* Pickups: Custom Buckers wound to match the original PAFs
* Signature: Hand signed by Mark Knopfler
* Relic Lifton brown case, COA, Hangtags and original card box incl.