Leadmusic, Geneva - Switzerland
2 rue Albert-Richard,
+41 22 731 62 72

Ask for our offer
Regular price: CHF 429.00
VAT 7.7% included. Without shipping costs.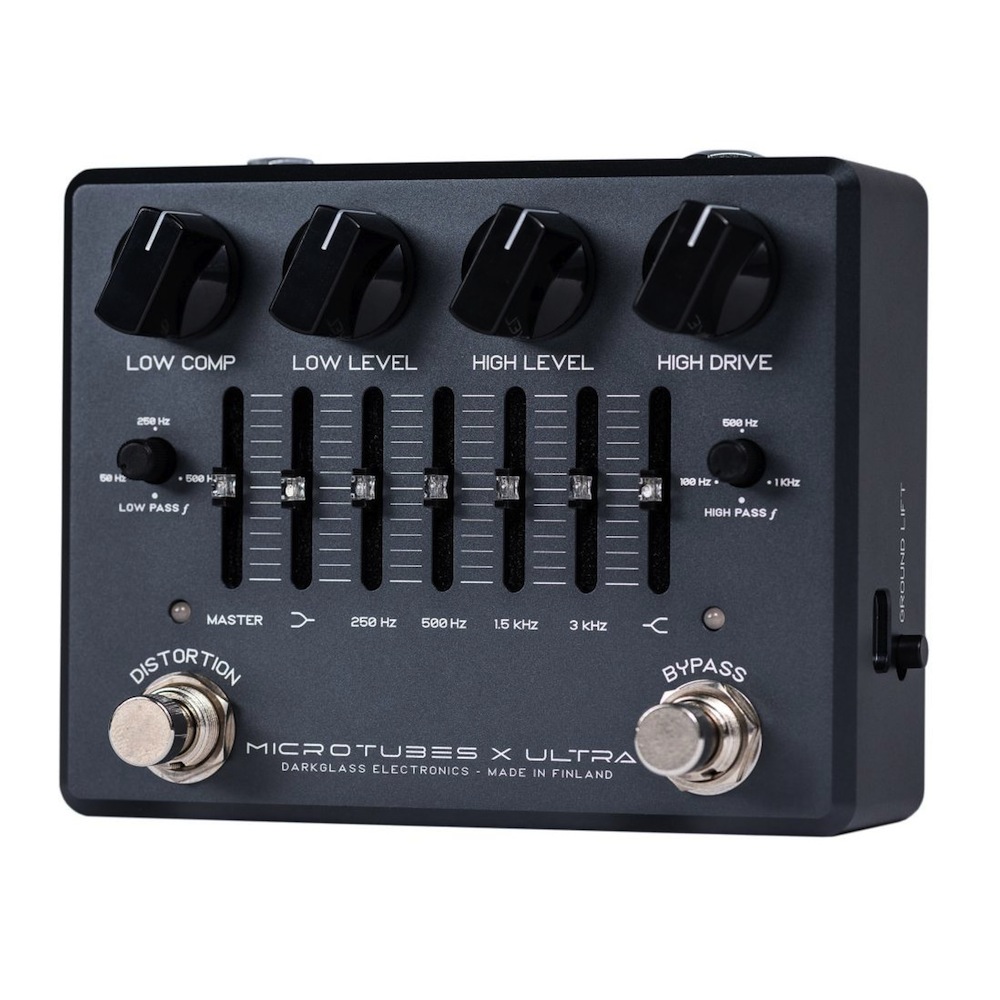 Information:
The Microtubes X Ultra greatly expands on the already immense versatility of the Microtubes X7. Featuring all the great controls that its predecessor has that allows users to select exactly what frequencies they want to compress and saturate for the low and treble respectively, but with four major additions providing an additional layer of flexibility, while maintaining the same compact footprint, making it an extremely complete tool for the modern bassist.
The Finnish-made Microtubes X Ultra has a six-band EQ and splits your sound through two variable low-pass and high-pass filters. The high-pass handles mostly the mids and high-end and, like the others in the Microtubes series, is distorted with CMOS circuitry. The low-pass is left clean and subsequently processed by the the pedal's built-in compressor, which is easily adjustable.
Why does this matter? Well it allows the mids and highs to handle the dirt and crunch, from which you can tease all kinds of harmonics and overtones, while the clean lows add weight and clarity. This neatly sidesteps those issues of unwanted fuzz and rumble when the low end distorts and keeps your bass sound huge, which is how you want it. It features all the versatility and sonic possibilities of the Microtubes X7 plus a single user loadable cabinet simulation impulse response, a micro-USB B port to connect to PC/Mac to load a different Virtual Cabinet through the Darkglass Suite, a 3.5mm headphone output with cabinet simulation and a balanced XLR output with switchable cabinet simulation.
Specifications:
Microtubes X Splits your signal to two variable filters for tone shaping
Boutique hybrid JFET & CMOS gain stages overdrive
Direct output and parallel output for flexible routing options
Lowpass-filtered signal remains clean for maximum punch and fundamental impact
Highpass-filtered signal goes to the drive circuit for adding harmonic saturation
Level controls for high and low filters allow you to create your ideal sonic combination
4-band graphic EQ with high- and low-shelving bands, 500Hz band, 1kHz band, and master level control
Direct Output XLR with Cab Sim. Toggle the cabinet simulation on/off on the Direct Output.
Headphones. Alpha·Omega Ultra has an internal stereo headphone amplifier capable of driving a minimum load of 16 ohms from the 3.5mm stereo jack.
Micro USB. A Micro USB B connector allows you to connect the pedal to PC/Mac to load cabinet simulation impulse responses to the pedal and control various other settings.
True bypass relay
True bypass relay
power by 9VDC center negative power supply (no battery snaps)
Handmade in Finland