Leadmusic, Geneva - Switzerland
2 rue Albert-Richard,
+41 22 731 62 72

CHF 2,890.00
VAT 7.7% included. Without shipping costs.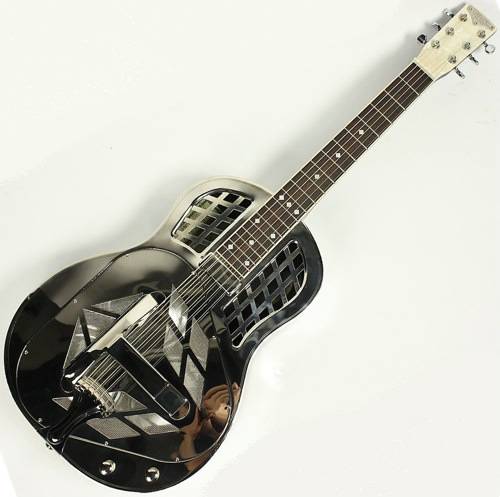 Information:
You can't afford a 8K value pre World War II National Tri-Cone but would like to get the sound of it ? Here's the instrument you were waiting for. This Square Neck brass body with nickel finish Tri Cone from AMISTAR just sounds as good as it looks. This amazingly well built guitar is among the very best Tri-Cone repro we played so far and gives an amazing and pure tone you won't believe. That sustains for days and will make your mama cry, period.
The fairly lightweight brass body has a very great looking nickel finish. This fantastic sounding instruments comes with the Duotone pickups system from AMISTAR. This gives you a Piezo for a pure and more realistic Tri-Cone sound and a mini humbucker bringing the guitar in a more modern and heavy blues tone. Not to mention that this instrument is perfectly tuned and that the craftmanship is among the best you can get in that style.
Specifications:
* brass body with nickel finish
* square neck
* Tri-Cone repro
* Duotone pickups system
* silver finish headstock