Ask for our offer
Regular price: CHF 32.90
VAT 8% included. Without shipping costs.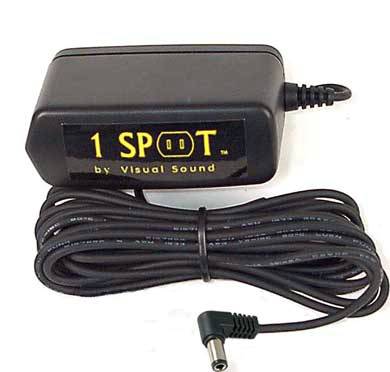 Information:
The 1SPOT not only takes up ONE position on your outlet strip or wall
outlet but also handles from one to over twenty guitar pedals (1700mA
max!) and comes with a new heavy duty output cable! The 1SPOT can use
its optional multi-plug cable(s) for powering more than one pedal and
is guaranteed to work with any equipment that uses one of the following
adapters (over 90% of the effects pedals on the market!): Boss PSA,
Boss ACA, Danelectro DA-1, DOD PS-200R, Dunlop ECB-03, Ibanez AC-109,
Korg A30950, Morley9V, Zoom AD-0006. With its new converter plugs, the
1 SPOT will work with virtually ANY 9V pedal! …even Line 6 modeling
pedals and even convert international voltage (100V-240V)
automatically; no transformer needed!
Specifications:
* Only takes up ONE position on your outlet strip or wall outlet!!

* Handles from one to over twenty guitar pedals (1700mA max!)

* New heavy duty output cable!
* Use with optional multi-plug cable(s) for powering more than one pedal.
Guaranteed to work with any equipment that uses one of the following adapters (over 90% of the effects pedals on the market!):
* Boss PSA, Boss ACA, Danelectro DA-1, DOD PS-200R, Dunlop ECB-03, Ibanez AC-109, Korg A30950, Morley9V, Zoom AD-0006.
* With new converter plugs, the 1 SPOT will work with virtually ANY 9V pedal! …even Line 6 modeling pedals!
* Will even convert international voltage (100V-240V) automatically; no transformer needed!

* 3 meter (10′) cable is almost twice as long as other adapter cable