Leadmusic, Geneva - Switzerland
2 rue Albert-Richard,
+41 22 731 62 72
Vigier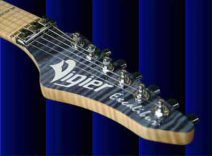 Back in 1980, Patrice Vigier launched a carbon neck bass that really smashed'em all, and the designed and made in France brand actually builts some of the very best and modern instruments you can dream of. The 10/90 system consist of a neck made of 10% carbon and 90% wood and this design reinforce the neck and gives a rich and full sound, since there's no more holes for the truss rod in the neck.
Many different options are available, such as neck fingerboard, pickups, hardware and colors, so feel free to ask for any further informations.
2 Products
Description:
A great opportunity to get one of those amazing Vigier guitar at a very affordable price. The Indus is a great Shred and modern guitar, with its Di Marzio PAF Classic and the amazing Vigier neck...
Description:
An amazing modern bass. The Excess series has been adopted by various players including some of rock and heavy metal's legendary bassists. Here we have a brand new Excess Roger Glover Signature bass. It's a very efficient bass, designed for stage performance. The Vigier Excess II Roger Glover...
You didn't find the item you're looking for?
You couldn't find what you wanted in our selection of items? No problem! We can get it for you, and at the best price!!!
If you know the brand or the model – or any other reference – let us find it for you. You'll be informed of the terms and delivery period very quickly.
Contact us by phone or by e-mail or – if you have all the useful information – using the On request form available here.