Leadmusic, Geneva - Switzerland
2 rue Albert-Richard,
+41 22 731 62 72
Supro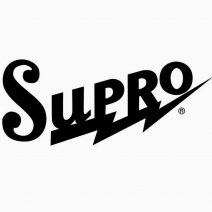 From the late 30's since 1968, the original Supro amp company was part of the Valco catalog. The legendary Supro logo with signature lightning bolt stirs several
images simultaneously for most guitarists. Sum these up as unique looks,
individual tone, and a near-mythic cool factor that is unmatched in the
world of vintage tube guitar amplifiers; but the most common reactions
to all of these sensations are best rendered simply as, "I want
one!" Jimi Hendrix, Jimmy Page, Albert Lee and countless other stars
wanted one too—and got 'em, using Supro amps to lay down the foundations
of blues and rock. In 2013, Absara Audio purchased the rights and copyrigth and started a new high end made in USA production.
1 Product
Description:
he Saturn Reverb's blue rhino hide tolex, vintage-correct cabinetry and fundamental circuit topology are all drawn from the original Supro Reverb combos of the mid 60's. Like its ancestors, the new Saturn Reverb's power-tube tremolo comes after the reverb pan, lending an ethereal shake and wobble to...
You didn't find the item you're looking for?
You couldn't find what you wanted in our selection of items? No problem! We can get it for you, and at the best price!!!
If you know the brand or the model – or any other reference – let us find it for you. You'll be informed of the terms and delivery period very quickly.
Contact us by phone or by e-mail or – if you have all the useful information – using the On request form available here.