Leadmusic, Geneva - Switzerland
2 rue Albert-Richard,
+41 22 731 62 72
Rayco Resophonics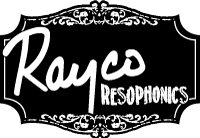 Mark Thibeault and Jason Friesen started Rayco Resophonics back in 2002, but they had been spending many years building instruments and guitars for the Larrivee company before building their own Rayco guitars. Those who knows about high end and quality gutiars knows about Rayco instruments as these 2 canadian luthier based in Smither in Bristish Colombia, Canada, makes no compromises with the quality and musicality of their instruments. The quality and the beauty of the woods they choose matches the amazing craftmanship of their Dobro, slide guitars and Weissenborn replicas. Solid woods, Nut-serts with stainless steel bolts to fasten coverplat, Hand fit, dovetailed neck joint, Quarterman cone, best parts available and Calton cases are standard on the Rayco instruments.
Feel free to ask Leadmusic for an offer on the instrument of your dream. Rayco resophonics can built your very personal instrument on your own specifications. And if waiting 3 to 4 monthes is too long for you, some instruments are on stock at Leadmusic and some are often in building process at Rayco.
1 Product
Description:
When it comes to high end resophonic and hawaiian guitars, everybody knows about Rayco Resophonics. These canadian luthier offers an amazing craftmanship at very reasonnable costs. This very unique and custom order hawaiian guitar is simply the best we ever had (and we've had even some original...
You didn't find the item you're looking for?
You couldn't find what you wanted in our selection of items? No problem! We can get it for you, and at the best price!!!
If you know the brand or the model – or any other reference – let us find it for you. You'll be informed of the terms and delivery period very quickly.
Contact us by phone or by e-mail or – if you have all the useful information – using the On request form available here.