Leadmusic, Geneva - Switzerland
2 rue Albert-Richard,
+41 22 731 62 72
Laney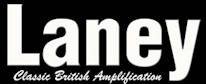 As a bassist playing the local circuits with the likes of Robert Plant and John Bonham, Lyndon Laney decided to turn his hand to building amplifiers for friends in his parents' garden shed. Some of Lyndon's first customers were local Birmingham-based guitar players such as Tony Iommi of Black Sabbath who remains loyal to Laney to this day. Many of the first Laney amplifiers ever built are still around and in use, slowly becoming as revered as other vintage amplifiers by Marshall and Fender for their pure valve-driven tone.
Throughout the 1990s Laney continued to build on its reputation for innovation: by the middle of the decade products such as the VC30 were released (a retro-style Class A valve combo reminiscent of the famous Vox AC30, but with more features), the VC50/VC100 combos with two channels, each with a separate boost for adding more gain and volume effectively offering a player four different sounds, and the single channel GH50L/GH100L stacks which are among the best-selling models ever made by the company.
1 Product
Description:
his 30 watt combo delivers 3 channels of great tone to take to any gig and saves your back while doing it. Clean channel is great with nice digital reverb. Global effects loop for leads and/or using across all channels. Great Laney styling in a compact 112 combo. Have yet to check out the DI. You ca...
You didn't find the item you're looking for?
You couldn't find what you wanted in our selection of items? No problem! We can get it for you, and at the best price!!!
If you know the brand or the model – or any other reference – let us find it for you. You'll be informed of the terms and delivery period very quickly.
Contact us by phone or by e-mail or – if you have all the useful information – using the On request form available here.