Leadmusic, Geneva - Switzerland
2 rue Albert-Richard,
+41 22 731 62 72
Graph Tech Ghost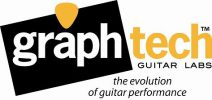 Replace your current saddles with Graph Tech's ghost modular pickups and
one of our Acousti-Phonic preamp and you'll have instant access to
true, acoustic tone from your electric guitar or bass, without altering
your electric pickups. The ghost Hexpander MIDI interface system adds MIDI capability to almost
any guitar or bass. Plug your guitar into pitch-to-MIDI converters by
Roland or Axon and enter the MIDI sound universe
0 Product
You didn't find the item you're looking for?
You couldn't find what you wanted in our selection of items? No problem! We can get it for you, and at the best price!!!
If you know the brand or the model – or any other reference – let us find it for you. You'll be informed of the terms and delivery period very quickly.
Contact us by phone or by e-mail or – if you have all the useful information – using the On request form available here.