ESP Guitars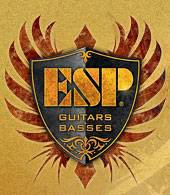 In 1975, Hisatake Shibuya opened a shop called Electric Sound Products (ESP) in Tokyo. It provided custom replacement parts for guitars. In 1976, ESP gained a reputation as a provider of high-quality replacement parts and also began crafting guitars under the ESP and Navigator brand in the Japanese market. In 1993, ESP moved its headquarters again but this time it was relocated to Los Angeles. There, ESP opened an office in Hollywood. In 1996, LTD was created to produce ESP's high-quality products in a more affordable line of production. In 2002, ESP was ranked among the music industry's fastest growing companies.
2 Products

CHF 1,190.00
VAT 8% included. Without shipping costs.
Description:
Here a real New Old Stock instrument, built in 2007 and kept 10 years in the official swiss ESP distribution for 10 years. After they quit their business in late 2016, some instruments were sold at a special price, among them, this made in Japan ESP J-Four in as new condition....

CHF 2,990.00
VAT 8% included. Without shipping costs.
Description:
Here's an excellent looking One of guitar made by the ESP custom shop. This instrument is second hand but only shows playwear and light scratches en tiny dings and dents on the body and on the parts and Floyd Rose. Amazing shred and modern guitar for just half the price of a new custom shop....
You didn't find the item you're looking for?
You couldn't find what you wanted in our selection of items? No problem! We can get it for you, and at the best price!!!
If you know the brand or the model – or any other reference – let us find it for you. You'll be informed of the terms and delivery period very quickly.
Contact us by phone or by e-mail or – if you have all the useful information – using the On request form available here.