Leadmusic, Geneva - Switzerland
2 rue Albert-Richard,
+41 22 731 62 72
EMG Pickups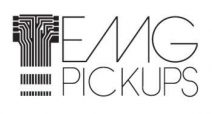 EMG, Inc. is the current legal name of a company based in Santa Rosa, California which manufactures guitar pickups. Founded in 1976, the company was originally called "Dirtywork Studios". The name was changed to "Overlend" (spelled "Overland" in some sources in 1978 and then to the current name in 1983. However, its products have always been called EMG pickups. "EMG" stands for "Electro-Magnetic Generator".
EMG pickups are standard equipment on some high-end models from guitar manufacturers such as BC Rich, ESP, Ibanez, and Jackson Guitars. EMG active pickups tend to have much higher output than passive pickups of similar design because of the on-board preamp. The high output has made them popular with hard rock and heavy metal guitarists because they overdrive the input stage of guitar amplifiers more dramatically than a lower output pickup could.
In addition to pickups, EMG inc also have a line of guitar/ bass accessories, mainly for altering the guitars EQ settings, and designed to work with EMG pickups. This can be seen in companies such as Schecter, who ship almost all of their basses with EMG EQ shaping circuitry,
Players and bands who use or endorse EMG pickups include: Alexi Laiho, Atreyu, Shadows Fall, Cannibal Corpse, Dethklok, Opeth, Dimmu Borgir, Shinedown, Lacuna Coil, Parkway Drive, Black Stone Cherry, Steve Lukather, Reb Beach, Prince, Metallica, Slayer, Machine Head, Les Claypool, Zakk Wylde, Judas Priest, Deftones, Rammstein, Killswitch Engage, Trivium, Vince Gill, Slipknot, Nevermore, Nickelback, Tom Morello, David Gilmour, Jean-Claude Demetri, Roche , Eye For An Eye and many others.
0 Product
You didn't find the item you're looking for?
You couldn't find what you wanted in our selection of items? No problem! We can get it for you, and at the best price!!!
If you know the brand or the model – or any other reference – let us find it for you. You'll be informed of the terms and delivery period very quickly.
Contact us by phone or by e-mail or – if you have all the useful information – using the On request form available here.