Leadmusic, Geneva - Switzerland
2 rue Albert-Richard,
+41 22 731 62 72
DBZ Guitars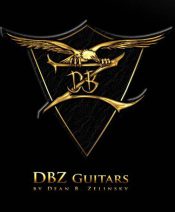 DBZ Guitars is the creation of legendary guitar maker Dean B. Zelinsky and Jeff Diamant of Diamond Amplification. Dean Zelinsky was the original founder of Dean Guitars, and has been a master builder of exquisite electric and acoustic guitars for well over 30 years.
Headquartered in Houston, Texas, the company has a USA facility in Chicago, Illinois as well as offshore manufacturing with worldwide distribution. "If you want to play a guitar designed and built by Dean Zelinsky, it now has to be a DBZ!".
0 Product
You didn't find the item you're looking for?
You couldn't find what you wanted in our selection of items? No problem! We can get it for you, and at the best price!!!
If you know the brand or the model – or any other reference – let us find it for you. You'll be informed of the terms and delivery period very quickly.
Contact us by phone or by e-mail or – if you have all the useful information – using the On request form available here.