Leadmusic, Geneva - Switzerland
2 rue Albert-Richard,
+41 22 731 62 72
Bad Cat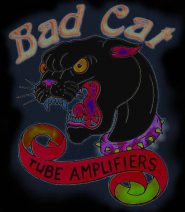 The BAD CAT AMPLIFIERS COMPANY, of Corona, California, offers an entirely new line of unquestionably superior Class A Tube guitar amplifiers. Whether judged for richest sound or build quality, consider that no other amp line even comes close.
many more informations available on www.badcatamps.com
1 Product
Description:
A very impressive new offering from Bad Cat. It's just a very simple 50 Watt Non-Master Volume EL-34 head for the budget-minded tone-seeker. The tone is very forward and in-your-face, very British. Cleans up nice and has plenty of bark when you crank it. Great for rock and hard rock settings. Plenty...
You didn't find the item you're looking for?
You couldn't find what you wanted in our selection of items? No problem! We can get it for you, and at the best price!!!
If you know the brand or the model – or any other reference – let us find it for you. You'll be informed of the terms and delivery period very quickly.
Contact us by phone or by e-mail or – if you have all the useful information – using the On request form available here.