Leadmusic, Geneva - Switzerland
2 rue Albert-Richard,
+41 22 731 62 72
Asher Guitars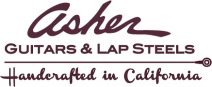 2 Products
Description:
Asher Guitars & Lap Steels is pleased to offer the perfect entry-level lap steel guitar for any player. This import Asher Electro-Hawaiian® Junior offers quality tone woods and solid construction with impressive resonance and sustain. It has unsurpassed playability compared to similarly priced lap s...
Description:
The new Asher Acoustic Hawaiian Imperial lap steel has a hollow koa wood body and neck design with traditional spruce bracing resulting in that unforgettable, and ultra versatile Weissenborn tone. This lap steel has finely appointed details such as black and herringbone binding, vintage style tuners...
You didn't find the item you're looking for?
You couldn't find what you wanted in our selection of items? No problem! We can get it for you, and at the best price!!!
If you know the brand or the model – or any other reference – let us find it for you. You'll be informed of the terms and delivery period very quickly.
Contact us by phone or by e-mail or – if you have all the useful information – using the On request form available here.