Magasin Leadmusic à Genève
2 rue Albert-Richard,
+41 22 731 62 72

Prix sur demande
Prix normal: CHF 1,299.00
TVA 7.7% incluse. Hors frais de ports.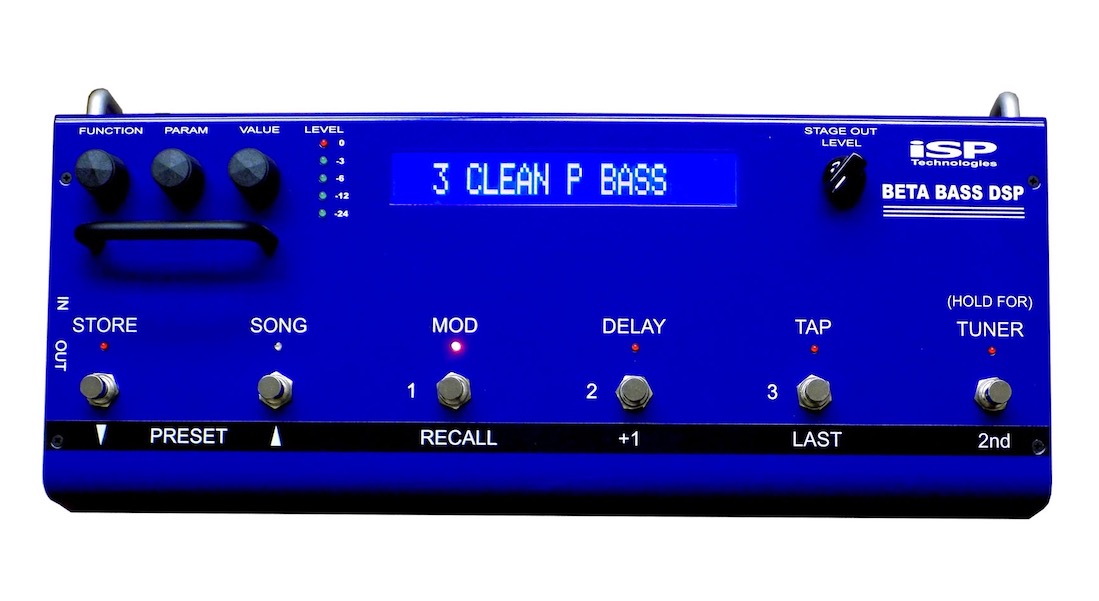 Présentation:
Le préampli multi effets BETA BASS DSP de ISP Techonolgies est ce qui se fait de mieux en format multi effets floorboard pour les bassistes. la partie préampli est complète et délivre des sons modernes, particulièrement dans les overdrive et les grosses distos. Au niveau des effets, exciter, wah, envelope follower, phaser, flanger, chorus, pitch shift, delay, et évidemment de la reverb sont au rendez-vous, et le tout est doté du réducteur de bruit DECI-MATE.
Au niveau technologique, ISP propose avec leur BETA BASS DSP le préampli multi-effets le plus performant en terme de conversions digitale et de rendement audio. Avec 124db de plage de dynamique entre l'entrée et la sortie et un convertisseur 32bits flottantes, les algorithmes du BETA BASS DSP propose le meilleur et le plus haut taux de distorsion du marché, sans l'effet aliasing typique des systurations digitales range between input and output. This incredible I/O dynamic range feeds a 32 bit floating point architecture with greater than 1500db internal DSP dynamic range. Add to all this ISP's proprietary oversampled clipping algorithm and the result is the only digital preamp that can offer massive amounts of usable gain (more than any DSP processor available) with zero aliasing or noise.
Une sortie TRUE SPEAKER avec des paramètres réglables permettant de réellement et fidèlement recréer un timbre de haut-parleur, 224 presets utilisables, et surtout le mode SONG qui permet de combiner des presets (jusqu'à 124) pour suivre durant vos morceaux l'ordre dans lequel vous utiliserez vos presets, le BETA BASS DSP n'a rien à voir avec les multi-effets des marques grand-public, on parle de matériel pro conçu par ISP Technologies là, le haut de gamme.
Spécifications:
Bass preamp pedal & multi effects
Advanced 32-bit floating-point DSP for maximum internal headroom and zero aliasing
Decimator X distortion technology for tube-like saturation and sustain
Distortion engine can be blended with dry signal for multidimensional tone
Multiband parametric EQ and studio-quality compression to fine-tune your sound in any setting
Can be used to drive an amplifier, or sent direct via XLR to mixer or recording device
Speaker-emulated XLR output with True Speaker convolution technology
Effects include exciter, wah, envelope follower, phaser, flanger, chorus, pitch shift, delay, and reverb
MIDI I/O for data dumps and program changes
Expression/volume pedal inputs