Leadmusic, Genf - Schweiz
2 rue Albert-Richard,
+41 22 731 62 72

Preis auf Anfrage
UVP: CHF 279.00
incl. 7.7% MwSt. Ohne Versandkosten.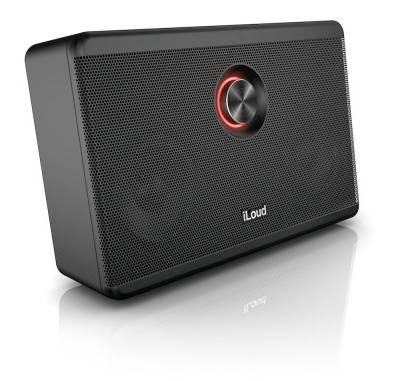 Beschreibung:
Laut und klar soll iLoud sein, mit 40 Watt RMS Ausgangsleistung, vier Neodym-Lautsprechern und Frequenzweiche, DSP-Prozessor und einem Frequenzgang, der über den gesamten Hörbereich und dank Bassreflex-System bis 50 Hz hinab reichen soll. Der integrierte, wieder aufladbare Li-Ion-Akku versorgt gem. Herstellerangabe das iLoud bis zu 10 Stunden mit Strom.
Das iLoud von IK Multimedia lässt sich via Bluetooth oder Stereo-Miniklinke mit Smartphones, MP3-Playern und weiterem Musiker-Gear verbinden. Über iOS-Devices wie z. B. iPhone und iPad kann dank entsprechender Apps und "Plug & Play" eine Gitarre, ein Bass oder ein Mikrofon direkt am IK Multimedia iLoud angeschlossen werden. Die Eingangsschaltung entspricht der des iRig.
Funktionen:
* 40 W total musical power – twice as much as comparable size speakers
* Superior low frequency extension and sound accuracy
* Bluetooth and stereo analog line input
* Battery powered with auto standby, 10 hours normal usage
* iRig® input for guitars and dynamic mics for iPhone/iPad processing
* Highly portable – easily fit in a laptop bag or a backpack
* Ideal for music reproduction and music creation
* 40W total power (2x16W low-frequency, 2x4W high frequency).
* Frequency response 50Hz to 20kHz.
* Four Class-D Amplifiers, bi-amped system.
* Two way 2×3" neodymium woofers & 2×3/4" neodymium tweeters.
* High performance bass-reflex port.
* 1/4" iRig® input for connecting guitars and dynamic microphones to iOS devices.
* Bluetooth compatible with A2DP protocol.
* 1/8" stereo analog line input.
* DSP controlled.
* Superior low-frequency extension and sound accuracy.
* Auto Standby.
* Integrated high-performance Li-Ion rechargeable battery.
* Battery duration at maximum volume: up to three hours. Normal usage: up to ten hours.
* Size: 250mm/9.84″ x 160mm/6.3″ x 60mm/2.36″ (W x H x D)
* Weight: 1,330g/46.91oz