Magasin Leadmusic à Genève
2 rue Albert-Richard,
+41 22 731 62 72

Prix sur demande
Prix normal: CHF 205.00
TVA 7.7% incluse. Hors frais de ports.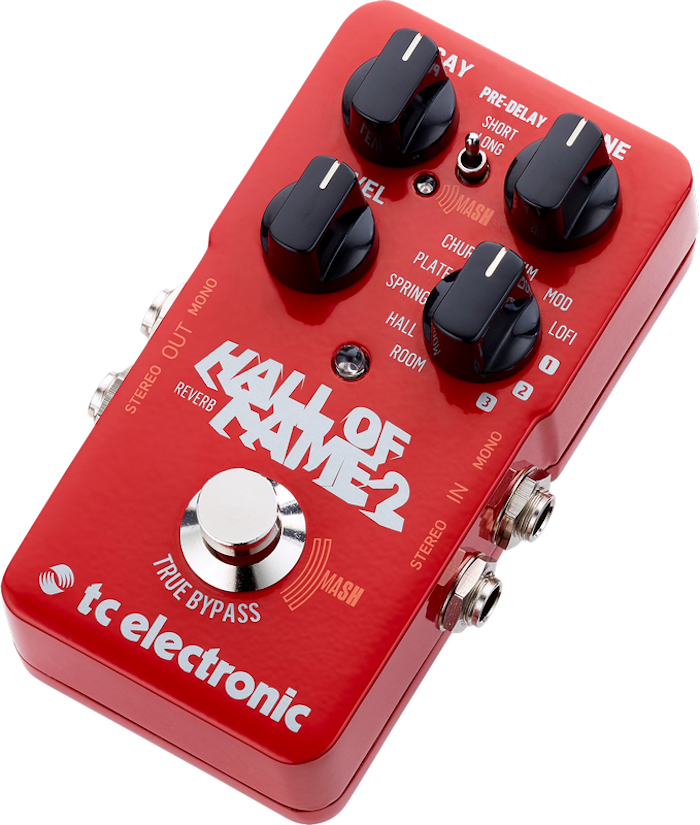 Présentation:
La pédale de réverbération TC Electronic Hall Of Fame 2 a été conçue sur le modèle de la pédale Hall of Fame, dont elle se distingue par 2 nouvelles fonctionnalités au service de votre créativité. Offrant le choix parmi 10 effets de réverbération, dont 3 TonePrint, la Hall Of Fame 2 intègre un nouvel algorithme Shimmer Reverb qui fait passer la réverbération à une octave supérieure à chaque boucle de rétroaction pour vous permettre de créer de superbes paysages sonores. La nouvelle technologie MASH permet de changer la fonctionnalité du footswitch d'un simple interrupteur de marche à une pédale d'expression sensible à la pression, et ainsi de contrôler la façon dont vous intégrez vos réverbérations à votre son. Dotée d'effets TonePrint, d'un design Analogue-Dry-Through et d'un True Bypass, la pédale Hall Of Fame 2 est parfaite pour les guitaristes qui aiment laisser parler leur créativité, ou qui recherchent un petit truc en plus pour leur pédale Hall of Fame.
Spécifications:
Iconic reverb pedal returns better than ever with an innovative pressure-sensitive footswitch and an added shimmer effect
Groundbreaking Mash technology turns footswitch into a pressure-responsive expression controller
New shimmer reverb algorithm pitches your reverb up an octave through each feedback loop to give an other-worldly sound
Next-generation reverb algorithms give you phenomenal-sounding realistic reverb tones
TonePrint-enabled to let you beam cool signature tones into your pedal with the free TonePrint App
3 dedicated TonePrint slots for storing signature effects
Design your own customized reverb effects from scratch with free TonePrint Editor for PC, Mac, and iPad
Simple, easy-to-use controls let you focus on playing
True bypass allows for optimum clarity and zero high-end loss when the pedal is off
Works flawlessly with guitar and FX loop signals
Optional buffered bypass mode prevents high frequency loss from long cable runs Analog-Dry-Through maintains total integrity of analog dry signal path even when reverb is engaged
Designed and engineered in Denmark