Prix sur demande
TVA 8% incluse. Hors frais de ports.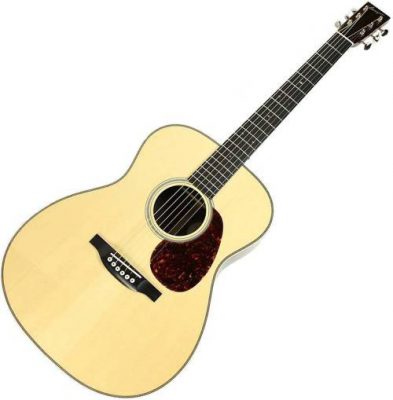 Présentation:

***********Plus en stock, demandez nos disponibilités pour Bourgeois ***********

Quelle splendeur et quelle bombe que cette guitare, croyez-nous. Certes, on est des fans absolus de Collings, mais Bourgeois tient la comparaison et ces deux marques enterrent Martin, Lowden et consort, cela ne fait aucun doute. Mais parlons de la belle plutôt
Cette Bourgeois JOM est restée en état neuf, quasi immaculée (ok, il y a un micro dent sur la tranche de la tête de manche…) Pas de traces de jeu, pas de coup, pas de marque, pas de raies, bref, absolument rien qui indique que la belle n'est pas neuve, car c'est le cas, la belle a eu un propriétaire soigneux, bon musicien en plus. Cette JOM a été demandée avec une table optionnelle en Adirondack, délivrant une attaque et un volume surprenant. Car l'acronyme JOM signifie évidemment Jumbo OM. Et là, le mot Jumbo prend tout son sens. Cette JOM est puissante, délivre un bon volume mais surtout un très bel équilibre et un belle articulation. Cela est défini, précis, sans être criard (évidemment, on parle d'une Bourgeois à 5300.-chf neuve) et cela a des basses aussi. Bref, superbe spectre sonore et bon volume. Les JOM ont été designées pour les flatpickers, mais convient superbement au jeu aux doigts. Nous avons réglé l'action, taillé le sillet de tête et baissé le sillet de chevalet pour rendre la belle super facile à jouer, et parfaite aussi pour le fingerpicking.
Cette guitare en état neuf donc a été montée avec un système K&K Western passif et possède le mini potare de volume dans la rosace. C'est installé professionnellement, et tenu par du velcro, donc retro-fit facile. Livrée avec documentation et coffre d'origine.
Spécifications:
* Extremely high-grade quality and craftmanship
* Indian rosewood back and sides
* optional highest grade Adirondack spruce top
* 1 3/4 inches nut width
* Ebony fretboard
* Abalone rosette; tortoise shell colored pickguard.
* Particularly handsome mahogany neck.
* Rosewood headstock faceplate.
* Waverly tuning machines.
* Grained Ivoroid body, fretboard & headstock bindings.
* K & K Western pickup.
* Plays wonderfully, sounds like you would expect a highest quality acoustic instrument
Plenty of presence, majestic, nice and woody.
* original case included.