Leadmusic, Geneva - Switzerland
2 rue Albert-Richard,
+41 22 731 62 72

Ask for our offer
VAT 7.7% included. Without shipping costs.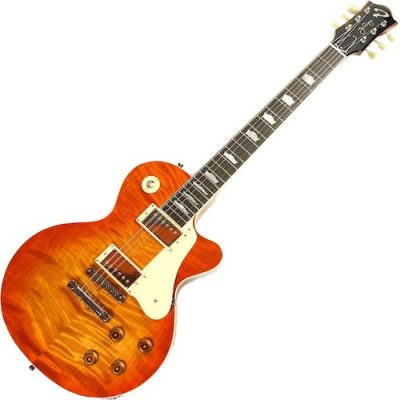 Information:
*********** Not in stock anymore, please inquire for our delivery date and conditions *********
Back in mid 2015 I got an email from Juha Ruokangas with some pictures of a selection of 3 logs of exceptional figured arctic birch wood. I choosed the one I felt the most attractive and figured, and the 2 other logs of woods were built on one Unicorn displayed at the late October 2015 Holly Grail Show in Berlin and the one Unicorn displayed at the January 2016 NAMM show. We just got our baby in January, and feel blessed to work with such an amazing company with amazing woods, craftmanship and quality. This Unicorn Classic is a real Gem.
Only built with the best woods available, the Unicrons are fantastic guitars. This one not only looks amazing but it also sounds and sustains like very few other Les Paul type we had or heard. That amazing tridimensional arctic birch top is also among the best we've seen so far. Juha proposed it to Leadmusic as his Exceptional Top selection and was kind enough to send us 3 logs of wood to choose from. What a chance. Paired with a spanish cedar body and set neck, the Unicorn not only looks good and sounds amazing, it is also a dream to play. The fretjob, the quality of the craftmanship is spectacular, there's no flaws at all, everything is perfection.
This unique guitar has Gotoh SD510 tuners, nitro high gloss finish and the great looking Honeyburst finish. It features the original Hiscox hardcase and both the certificate and photo montage. Also, usually delivery time is approx 8 to 10 monthes ? This one is here on stock, it stays in its case and don't hang on the wall as it's an amazing and unique piece.
Specifications:
* Honeyburst
* High Gloss
* Long Tenon Set-neck
* Exceptionaly Figured Arctic Birch (Betula Pendula Carelica)
* Spanish Cedar body (Cedrela Odorata)
* Spanish Cedar neck (Cedrela odorata)
* East Indian Rosewood fretboard (Dalbergia Latifolia)
* only 3.65kilos
* 24.75″ scale with 12″ radius
* 43 mm Big C 22 neck with Jumbo Nickel/Silver frets
* Moose Shin Bone nut
* Nickel plated Gotoh SD510 Non-locking
* TonePros tune-o-matic
* Gotoh Straplocks Hat style
* push-pull for split coil
* 3-way switch
* Buzz Feiten Tuning System
* 010-046 Elixir
* incl. case, COA and documents