Leadmusic, Geneva - Switzerland
2 rue Albert-Richard,
+41 22 731 62 72

Ask for our offer
Regular price: CHF 5,290.00
VAT 7.7% included. Without shipping costs.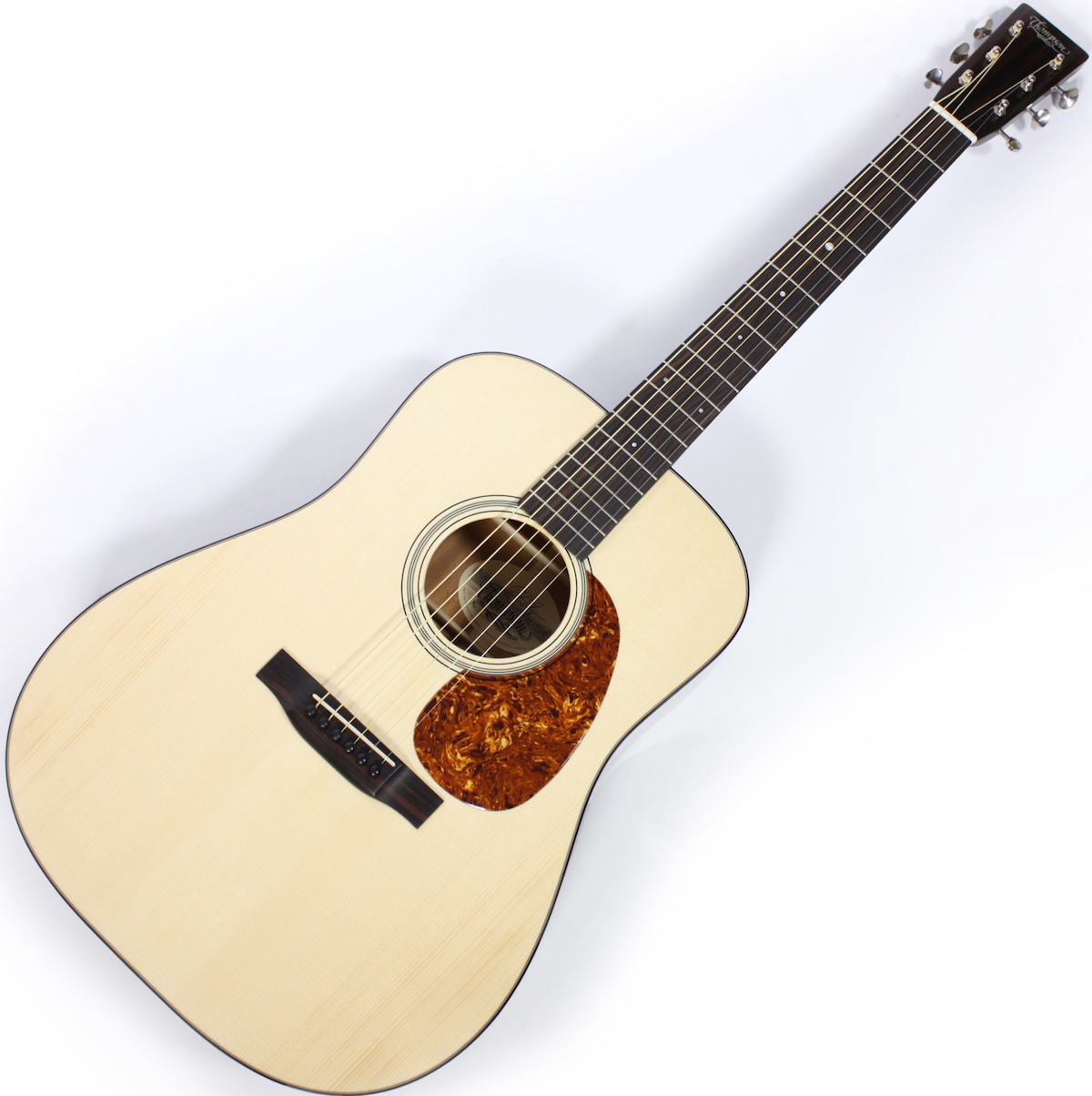 Information:
Leadmusic is proud to have Thompson Guitars in their range of high end guitars, as these instruments beats any high end Martin you could purchase for twice (or more) the price. Also, Preston Thompson Guitars have a built time of approx 6 months and built 150 to 160 guitars a year, so these are pretty rare birds !!
Preston Thompson Dreadnought models are all crafted to produce the tone and volume that the dreadnought guitar was originally designed to achieve. These are powerful instruments that, when needed, stand up to the volume of a mandolin, fiddle and banjo. They have the bass response that provides an almost full orchestral backing to vocals. Their mid-range response and bright trebles take flatpicking and lead playing to new levels of achievement.
These are traditional instruments and all models are based on the famous 1937 Herringbone Dreadnought, owned by the late, great Charles Sawtelle of the award winning bluegrass band, Hot Rize. All feature Red spruce (Adirondack) tops chosen for tap tone and stiffness, advanced X brace placement, hand graduated top thickness, pre-war hand carved scalloped braces, nitro-cellulose lacquer finishes and time tested design features such as dovetail neck joints.
It's all about sound, and that is what the Thompson Dreadnought specializes in. This Thompson Dreadnought is built with the finest woods, materials and craftsmanship to deliver that sought after pre-war sound and playing feel. We got this instrument new from Preston Thompson Guitars in late April 2019 and it feels like it's already 70 years old : it's perfectly dried, balanced and weight like the lightest old acoustic guitar you could find. Sound is perfectly even, balanced and loud. This instrument has a lot of volume and you can play from articulate fingerstyle to heavy protest songs, it does everything perfectly.
Comes with its original Harptone case.
Specifications:
Adirondack Spruce Clean top option
Solid mahogany back & sides
Solid (paddle) headstock
Figured ebony peghead overlay
1 3/4 neck width
Soft V shape
18 style abalone inlay
Advanced X adirondack bracing
Ebony fretboard, bridge & endpins
Waverly tuners
Bone nut and saddle