Leadmusic, Geneva - Switzerland
2 rue Albert-Richard,
+41 22 731 62 72

Ask for our offer
Regular price: CHF 3,890.00
VAT 7.7% included. Without shipping costs.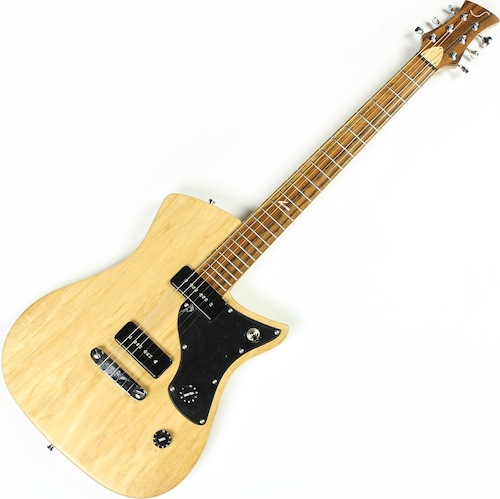 Information:
What an amazing piece of guitar !!! We had contact with Egon Rauscher of Soultool in late 2016 and ordered right away some guitars, and in November 2017 we finally got this amazing Soultool Laguz The Junior Custom with some unique and amazing specifications. The Laguz The Junior is an interpretation of a legendary single cut guitar with its own class. The smooth body contour and the rolling neck joint gives this guitar a new dimension in feel and play. This floating relation unifies guitar and player to one single masterpiece.
Our Laguz The Junior is really a playful, yet serious guitar and unlike usual junior models, the Laguz features a comfortable belly cut and one amazing specification we requested: a neck based on the Gibson Les Paul 58 Mark Knopfler Signature. As, yes, we had many of these Gibson Knopfler Signature, and sold one to a very good friend of Egon. So Egon basically put the Knopfler Les Paul on the bench of his workshop and took all the specs and measures. And as I own a Knopfler Signature, I can tell you the neck of this Laguz The Junior is a perfect and close clone of the original Les Paul Knopfler's neck. A dream to play thanx to this neck profile and shape and the 22 Softsteel frets (the first 7 frets are 1.4mm height, and the other frets are 1.3mm). The Korina neck and Ovangkol fretboard are absolutely eye catching. So, tonewise, these woods are simply perfect and the acoustic tone of that guitar is surprising.
As for the electronic, Soultool has a unique hum-cancelling system based on the Faraday process, it works !! So you have a push/push on the tone pot to choose the on/off position of the Faraday system. These Good Tone P90 pickups are very good pickups and the tone is a deep fat sounding but yet precise single coil sound, with ni single coil typical noise when the hum cancelling is engaged. Gotog 510 Locking tuners, ABM Bellbrass bridge and Tusq nut, you wanted high end specs, you have it !!
Comes with its original G&C case, a tool kit and straplocks and COA and documents.
Specifications:
brand new unique Soultool Laguz The Junior Custom, completed August 2017, delivered November 2017

Korina body
Korina neck
Ofangkol fretboard
Gibson Les Paul 58 Mark Knopfler Signature neck shape and profile
25.5 scale length
Softsteel frets, 1.4mm and 1.3mm
Good Tone P90 pickups
hum cancelling Soultool system with on/off Push/Push
Gotoh 510 locking tuners
ABM Bellbrass bridge
Original G&C case, toolkit and documents-COA incl.