Leadmusic, Geneva - Switzerland
2 rue Albert-Richard,
+41 22 731 62 72

Ask for our offer
VAT 7.7% included. Without shipping costs.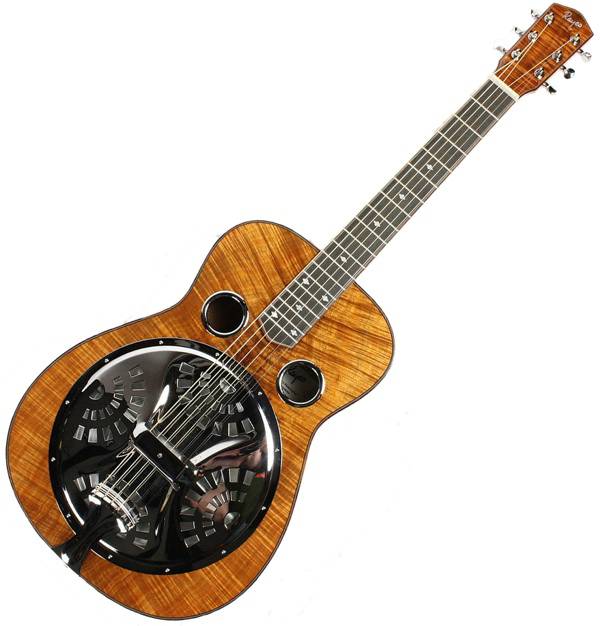 Information:
**** Sold, please ask for our next delivery ****
A few monthes ago we get our Mastergrade Koa Weissy, and really thought we wouldn't see any high end and crazy looking koa wood on an instrument before a long time… We were wrong, as that Dobro we just get looks as amazing as our Weissy. When it comes to high end resophonic and hawaiian guitars, everybody knows about Rayco Resophonics. These canadian luthier offers an amazing craftmanship at very reasonnable costs.
This very unique and custom order Dobro is simply the best we ever had and has the most amazing flame koa we ever saw on a Dobro so far… This koa wood's set Rayco's luthier picked up and that we choosed is absolutely amazing. Such figures, wide flames and color changes are pretty unique. The back and top shows some incredible waves and the curly of that Koa is pretty unique. Also, the bookmatching is perfect. The sides are also spectacular, with a very regular pattern. This koa is absolutely amazing as it shows very wide flames and very regular patterns. The headstock veneer is also made of beautifull koa, with the same wave shape and figure.
That guitar has factory installed Gotoh mini tuners and custom order mop diamond inlays. As this unique and spectacular guitar is all high gloss finish, the result is very classy and the figures of the wood really pops out. We clearly talk about a masterpiece of lutherie here.
About sound… "Wow" is not exactly all there's to say, but "wow" might make you understand how fabulous this instrument sounds. The depth and richness of the tone are simply amazing. The sound is loud and resonates a lot, the balance between the bass and the higher frequencies is perfect and that Dobro guitar never sounds muddy. The notes are really powerfull and even hammer on and pull off sounds like they were actually picked. It also sustains a lot. Simply the best Dobro we ever get, and that guitar is a true gem to look at, to hear and to play.
It has a factory installed Fishman Nashville Serie Spider cone pickups and comes with the Jerry Douglas Aura pedal. The sound out of that combination of electronic and pickup is really amazing.
It also features a high end TKL case.
Specifications:
* mastergrade flame koa back, sides and top
* koa veneer headstock
* dark binding body and neck purfing
* Quarterman Cone
* custom made high gloss finish
* Fishman Spider pickup
* Fishman Jerry Douglas signature Aura pedal incl.
* Gotoh mini tuner
* special custom order instrument
* TKL deluxe case incl.