Leadmusic, Geneva - Switzerland
2 rue Albert-Richard,
+41 22 731 62 72

Ask for our offer
Regular price: CHF 85.00
VAT 7.7% included. Without shipping costs.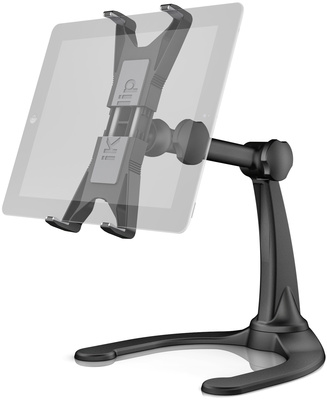 Information:
Introducing iKlip Xpand Stand, IK's next generation expandable tabletop riser stand. It's designed to securely hold your iPad, iPad Air, iPad mini, Android device or other tablet with a screen size between 7" and 12.1" above keyboards, mixers, DJ gear, notes and other tools. It's an all-in-one solution that's as useful for musicians as it is for small business owners, public speakers, professionals and anyone else who needs a sturdy way to secure their tablet for everyday use.
iKlip Xpand Stand features an expandable holding bracket with a soft rubber contact surface that adjusts to the width of your device providing a safe and secure way to hold your tablet firmly. With iKlip Xpand Stand, you can position your device exactly where you want it and rest assured it will stay in place.
iKlip Xpand Stand has been designed to be as versatile as possible. Its expandable sure-grip technology allows it to accommodate a wide range of tablet sizes without the use of cumbersome adapters. iKlip Xpand Stand's grips can be easily extended to hold all tablets with screen sizes between 7" and 12.1" — thick, thin, big or small. It even lets you use many devices without having to remove their protective carrying cases. Now you have a tabletop riser stand that can hold all your medium-to-large format tablets.
Specifications:
Desktop riser stand that adjusts to fit iPad, iPad mini and other 7" to 12.1" tablets
Sturdy and robust thermoplastic design with metal-reinforced base
Includes tabletop clamp
Tall enough to fit a keyboard, mixer or other device underneath it
Two independent articulations for maximum flexibility
Adjustable viewing angle
Orientation can be easily switched from portrait to landscape
Holds any iPad, iPad mini, iPad Air and tablet model with screens ranging in size from 7″ to 12.1″ with case on
Holding Bracket Width: 153.5mm (min) – 220.8mm (max) / 6″ (min) – 8.7″ (max)
Height: 55mm (min) – 235mm (max) / 2.16″ (min) – 9.25″ (max)
Includes tabletop base and tabletop clamp (1.26″ / 32mm max)
Total Weight: 760gr / 26.8oz
Material: Thermoplastic