Leadmusic, Geneva - Switzerland
2 rue Albert-Richard,
+41 22 731 62 72

Ask for our offer
Regular price: CHF 205.00
VAT 7.7% included. Without shipping costs.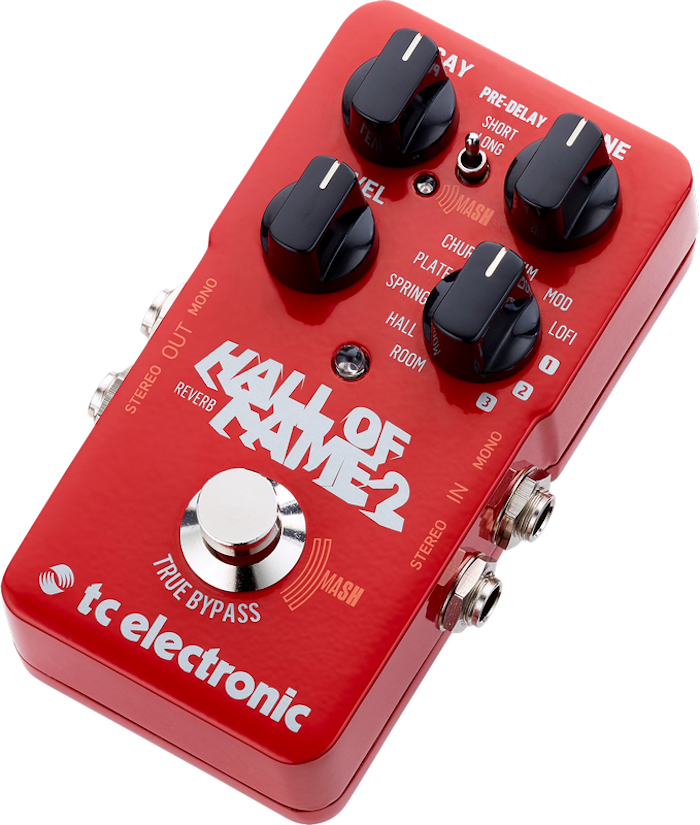 Information:
The original Hall of Fame Reverb delivered some of the most-iconic reverb sounds of all time, but Hall of Fame 2 Reverb extends that legacy of innovation dramatically. Essentially, Hall of Fame 2 Reverb's incredible Mash technology adds an expression pedal to a world-class reverb stompbox that not only responds to your touch and saves precious pedalboard space – but blends the celestial world of reverb with the ultimate in personal expression. Add a scintillating new Shimmer effect, and you've got a reverb pedal unlike any other – the awe-inspiring Hall of Fame 2 Reverb!
Specifications:
Iconic reverb pedal returns better than ever with an innovative pressure-sensitive footswitch and an added shimmer effect
Groundbreaking Mash technology turns footswitch into a pressure-responsive expression controller
New shimmer reverb algorithm pitches your reverb up an octave through each feedback loop to give an other-worldly sound
Next-generation reverb algorithms give you phenomenal-sounding realistic reverb tones
TonePrint-enabled to let you beam cool signature tones into your pedal with the free TonePrint App
3 dedicated TonePrint slots for storing signature effects
Design your own customized reverb effects from scratch with free TonePrint Editor for PC, Mac, and iPad
Simple, easy-to-use controls let you focus on playing
True bypass allows for optimum clarity and zero high-end loss when the pedal is off
Works flawlessly with guitar and FX loop signals
Optional buffered bypass mode prevents high frequency loss from long cable runs Analog-Dry-Through maintains total integrity of analog dry signal path even when reverb is engaged
Designed and engineered in Denmark