Leadmusic, Geneva - Switzerland
2 rue Albert-Richard,
+41 22 731 62 72

Ask for our offer
VAT 7.7% included. Without shipping costs.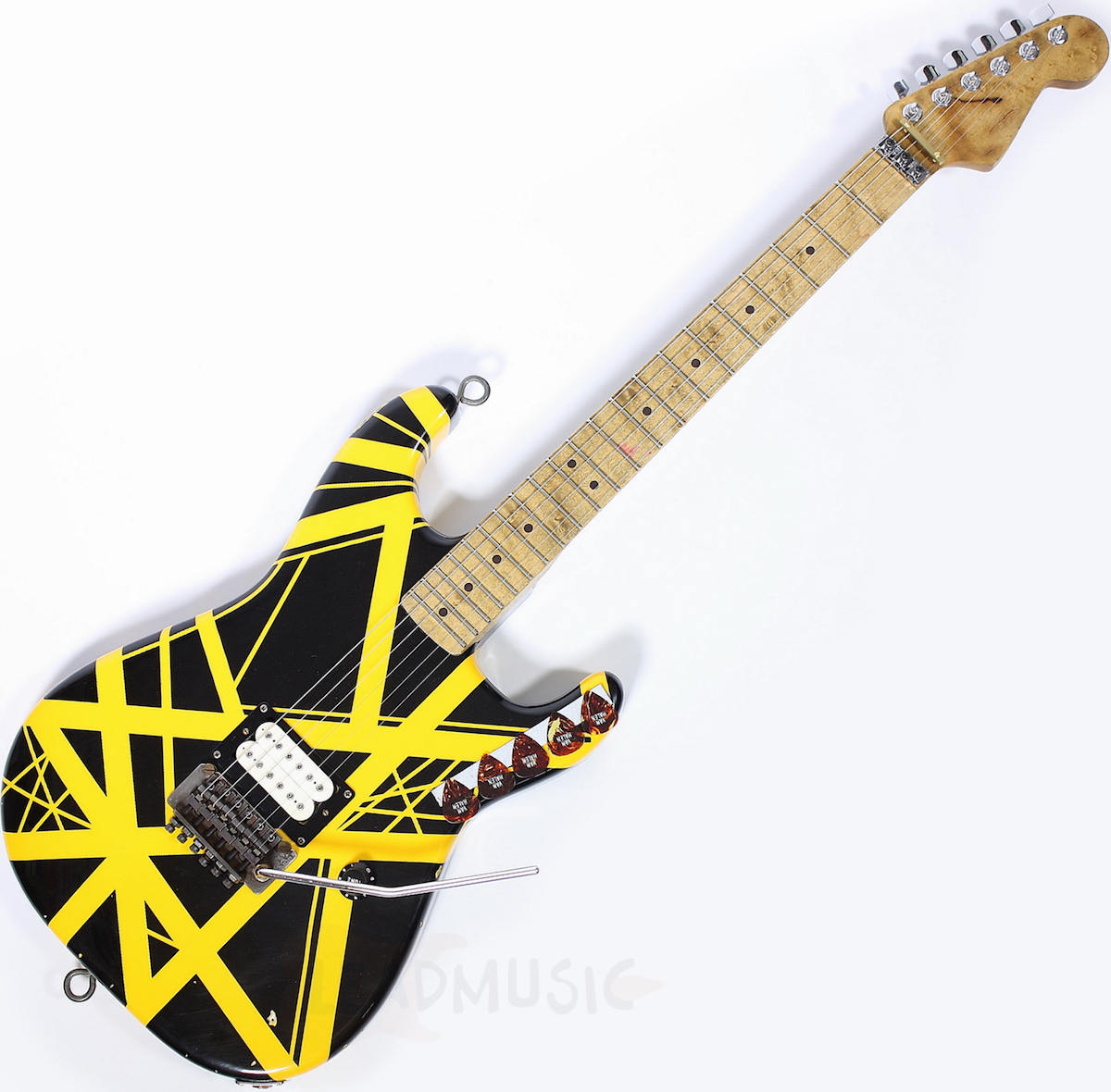 Information:
Leadmusic is proud to be one of the very few European music shops (and the only one in Switzerland) to have a the EVH '79 Bumblebee, for sale, a limited-edition replica of Eddie Van Halen's "Bumblebee" guitar. Built to mirror Bumblebee's configuration during Van Halen's 1979 world tour, this magnificent axe features an ash Strat-style body with iconic black and yellow stripes. Its oil-finished bird's-eye maple neck boasts a custom carve, along with a flat, 12"-radius fingerboard. Park this electric guitar in front of the right amp, and you'll experience true-to-the-original tone, thanks to a specially designed EVH '79 Bumblebee humbucker. Want to dive-bomb? What Van Halen aficionado doesn't? That's why the '79 Bumblebee boasts a proto-locking nut and tremolo that re-creates the early Floyd Rose design found on the original guitar. Complete with period-correct Schaller S-engraved tuning machines and eye-screw hook strap buttons, the EVH '79 Bumblebee has been relic'd to replicate the wear and tear of life on the road. Our EVH '79 Bumblebee has been hand-signed by Eddie Van Halen on the back of its headstock.
After Van Halen catapulted to fame in 1978, legions of guitarists began to emulate Eddie Van Halen. Players began appropriating his two-handed fingertapping technique. And many aspiring luthiers built black and white-striped guitars in their basements and garages (the iconic red paint job came later). Ever the innovator, Eddie responded by creating a black and yellow-striped variant of his famous guitar, dubbed "Bumblebee." Built at the Charvel factory, this guitar featured a Strat-style body, maple neck, and maple fingerboard. It also boasted a modified DiMarzio humbucker and an early locking tremolo. After it was featured on Van Halen II's back cover and played on Van Halen's 1979 tour, Bumblebee was largely retired. In 2004, Bumblebee was placed in Darrell "Dimebag" Abbot's Kiss Kasket after the celebrated guitarist's untimely death, as it was Dimebag's favorite guitar in Eddie's collection.
40 years later, EVH® has meticulously recreated this world famous instrument in the form of the '79 Bumblebee. Limited to only a 50-piece worldwide run, this tribute model features all of the original specs including an ash Strat® body, bolt-on birdseye maple neck with oiled back finish, straight 12" radius birdseye maple fingerboard with 21 jumbo frets, katalox dots and black side dots, and skirted Strat-style "Tone" volume knob. The original Bumblebee featured a DiMarzio humbucker retrofitted with a PAF magnet. After Eddie hand-wound the modified pickup, he dipped it in paraffin wax and placed copper tape around the windings. The EVH '79 Bumblebee comes loaded with an EVH '79 Bumblebee bridge humbucker. This pickup was voiced especially for this guitar to best replicate the sound of the original. A single volume control gives you everything you need to rein in this great-sounding pickup.
Arriving in a custom-made Anvil® hardshell case, the package will also include '70s-era Fender Super Bullets strings, Van Halen '70s tortoiseshell picks, exclusive collector's Bumblebee booklet, Young Guitar book Van Halen Live Tour in Japan 1978 & 1979 and several autographed items including a certificate of authenticity, 8"x10" 1979 concert photo of Eddie Van Halen and vinyl copy of Van Halen II.
Specifications:
'79 Bumblebee, Birdseye Maple Fingerboard, Black with Yellow Stripes
Body Material: Ash
Neck Material: Birdseye Maple
Neck Shape: Custom '79 Bumblebee with Fingerboard Radius: 12″ (305 mm) and Jumbo frets
Scale Length: 25.5″ (648 mm)
Bridge Pickup: EVH '79 Bumblebee
Bridge: Period-Correct Prototype Non-Fine Tuner Locking Tremolo
Tuning Machines: Period-Correct Schaller with "S" Engraved
'70s-era Fender Super Bullets strings incl.
Van Halen '70s tortoiseshell picks incl.
an exclusive Bumblebee collector's booklet incl.
Young Guitar book "Van Halen Live Tour in Japan 1978 & 1979" incl
autographed certificate of authenticity incl
autographed 8"x10" 1979 concert photo of Eddie Van Halen incl
autographed vinyl copy of "Van Halen II." incl.