Leadmusic, Geneva - Switzerland
2 rue Albert-Richard,
+41 22 731 62 72

Ask for our offer
VAT 7.7% included. Without shipping costs.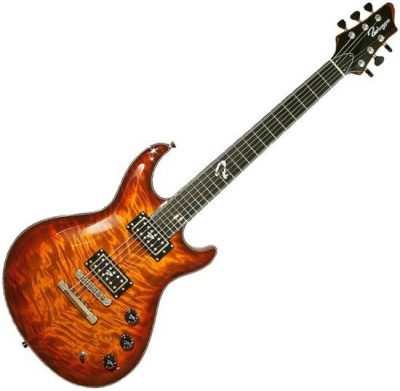 Information:
*********** Not in stock anymore, please inquire for our delivery date and conditions *********
Here's the most amazing Duke Classic we saw so far, and we've seen some, in shows, at Juha's place or in our shop. This one is a dream come true, and has the most amazing figured arctic birch top we saw until now. It features a solid cedar neck and body, ebony fretboard, the Duke Special wiring and 2 Dukebucker humbuckers.
This guitar was built on request and exposed at the Monteral Guitar show in early july 2012. We had this guitar on hold and here's the amazing Duke Classic available in Leadmusic. This extremely high end guitar is made of the lightest and most resonant spanish cedar. It's solid body is lightweight (forget about Gibson's weight…) and rings and sings like very few solid body gtiar. It's richer and has more depth and bass, but brings also more bite and definition. This is among the best tonewood for solid body guitar to our ears. And as this amazing guitar features the most figured arctic birch top we saw so far, we can clearly talk about a dream guitar. The top is just amazing, and the flames are wide and deep. The wood grain is outstanding. Ruokangas clearly put one of the best looking optional figured arctic birch they had. Also, the neck is made of a solid spanish cedar with ebony fretboard, Big C shape and stainless steel Jumbo frets.
As for electronic, this Ruokangas Duke Classic has it all: Dukebucker humbuckers with the Duke Special Wiring. This brings 3 push pull pots with split and out of phase possibilities. The most complete and versatile Ruokangas you can dream of.
This great guitar has locking tuners, nitro hgh gloss finish and the great looking Sundance finish. It features an original Hiscox hardace and both the certificate and photo montage. Oh, did we mention that usually delivery time is approx 8 to 10 monthes ? So don't wait, this one is here, and it's an amazing piece.
Specifications:
* premium spanish cedar solid body
* premium spanish cedar neck
* ebony fretboard
* optional highest grade figured arctic birch top
* Dukebucker Classic pickups
* Duke Special wiring : 3 push/pull split pots and out of phase Peter Green sound
* locking machine heads
* stainless steel jumbo frets
* Big C neck. The most confortable neck and fretting you'll find, period.
* Sundance finish
* high gloss nitrocellulose finish
* Ruokangas compensated nut position
* original Hiscox Ruokangas hardcase, certificate and photo montage.