Leadmusic, Geneva - Switzerland
2 rue Albert-Richard,
+41 22 731 62 72

Ask for our offer
Regular price: CHF 6,190.00
VAT 7.7% included. Without shipping costs.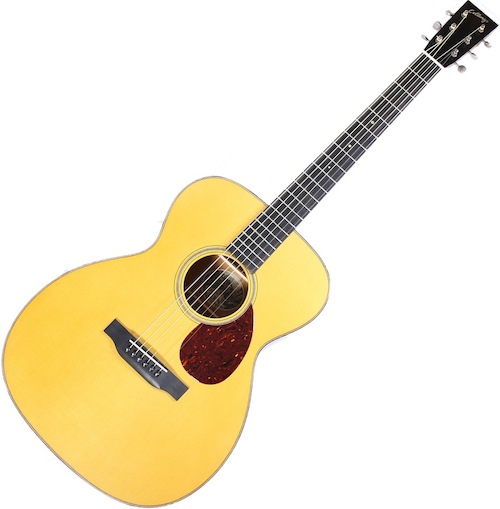 Information:
When Bill Collings first met the brilliant young jazz musician Julian Lage, in 2014, the two began a series of in-depth conversations about their respective crafts. Lage's profound insights as a guitarist would play a key role in the creation of Collings' T (Traditional) Series guitars. This rare collaboration, which continued right up until Bill's passing, in July, 2017, has yielded another exceptional new guitar with an old soul. We are proud to present a highly personal extension of the T Series: the Julian Lage Signature OM1.
Though Lage's guitar shares the same foundational specs as the OM1 T, it is unique in some key ways. Its neck feels like no other Collings guitar. That's because it's modeled after Lage's cherished 1939 Martin 000-18. This pre-war gem is heard on the guitarist's 2015 solo album, "World's Fair," and was his main touring acoustic for years.
The 000-18's neck—which was of course originally hand-shaped and sanded—has a distinctive taper altered by decades of wear. For Lage, this particular neck had come to feel like home. Through careful analysis and digitization of its unique dimensions, we were able to precisely recreate its worn-in, asymmetric feel on his signature model. While we maintained the relatively narrow 1 11/16″ nut of the 000-18's neck, we extended the fretboard from the original short scale to our standard 25 ½" length for slightly greater presence and note definition. Also, our guitar comes with the optional Adirondack top, and this brings a huge and wonderfull attack and response, despite the compact body shape.
Lage has an affinity both tonally and aesthetically for vintage guitars whose finishes have mellowed after years of playing. To recreate this effect we initially considered a varnish, but to achieve the ideal combination of a thin finish application and a vintage aesthetic, we landed on a custom satin lacquer. This new finish offering not only feels and looks right to Lage, he finds it has the same inherent openness of tone that is present in the best pre-war instruments.
Specifications:
optional Adirondack spruce
Honduran Mahogany back and sides
Tortoise with custom wood purflings binding
Herringbone trim with matching backstrip
Custom wood rosette rosette
Custom Traditional Series pre-war scalloped X-brace (no tongue brace)
Animal protein glue
Custom satin nitrocellulose lacquer finish
Mahogany Neck
bone 1 11/16" nut
Sitka spruce bracing
Inlaid Collings Logo
Ebony fingerboard and bridge
Fully adjustable truss rod
Bone nut and drop-in saddle
Ebony bridge pins and end pin
unique 1939 Martin 000-18 neck pattern
25 1/2″ Scale length
Relic nickel Waverly with vintage oval buttons (16:1 ratio)
original hardshell case incl.