Leadmusic, Geneva - Switzerland
2 rue Albert-Richard,
+41 22 731 62 72

Ask for our offer
Regular price: CHF 1,060.00
VAT 7.7% included. Without shipping costs.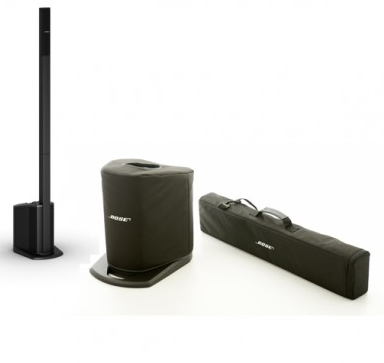 Information:
Thanks to Bose's Spatial Dispersion technology, one trip from the car to the stage ensures you'll have your full PA system and monitoring system in one hand. The Bose L1 Compact system has six small drivers inside a vertical enclosure — all positioned at precise angles. The result is nearly 180 degrees of even horizontal sound coverage. This delivers even sound dispersion across the whole range, including the audience or the stage. Instead of dialing in a stage monitor while wondering what the mix sounds like from the crowd, with the Bose L1 Compact, you'll always hear exactly what the audience hears.
On the back of the Bose L1 Compact power stand, you'll find a convenient 2-channel mixer. The first channel has an XLR input for your vocal microphone. The second channel has a 1/4″ input for your guitar, plus stereo RCA inputs so that you can connect an iPod or a laptop to play backing tracks or music between sets. And these are Bose's elite ToneMatch channels. Bose has preconfigured presets for a vocal microphone and an acoustic guitar, so it'll sound great, with no tweaking necessary. You'll find that your vocals retain clarity and a full-sounding presence, while your acoustic guitar shines through with all the harmonic content and richness you enjoy acoustically.
Specifications:
All-in-one mixer, PA system, and stage monitoring system
Bose Spatial Dispersion loudspeaker technology delivers sound evenly across the stage and throughout the audience
2 ToneMatch channels with fixed presets for a handheld microphone and an acoustic guitar
Integrated bass speaker in power stand
2 setup positions: collapsed for smaller spaces or extended for larger ones
Ideal for musical performances, mobile DJs, classrooms, business presentations, and other events
Bose L1 Compact PA Speaker System includes L1 Compact loudspeaker array, compact power stand, and carrying bag
13 kilos total weight