Leadmusic, Geneva - Switzerland
2 rue Albert-Richard,
+41 22 731 62 72

CHF 3,590.00
VAT 7.7% included. Without shipping costs.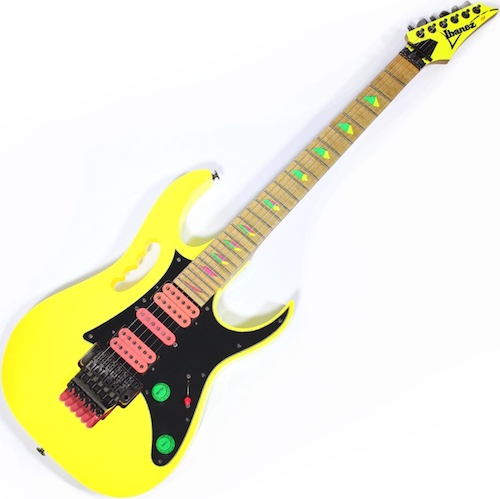 Information:
The Ibanez JEM777 is a solid body electric guitar model introduced by Ibanez in mid-1987 and produced until 1996. It was the first model in the JEM series which is a line of six-string guitars which are signature models for American guitarist Steve Vai. The JEM777 was revealed at the 1987 Summer NAMM show. Our original 1991 Jem 777 is in excellent condition, plays like butter and belonged to Nine Inch Nails's guitarist Alessandro Cortini (SONOIO, Modwheelmood, Jovanotti…), from whom I purchased it in summer 2018.
This incredible guitar is in excellent shape and only shows the usual finish crack around the neck pocket. So few dings and dents you can't believe on an almost 30 years old guitar. A few light and surface scratches, light playwear here and there, the original frets shows no dents or scuffs, perfect frets. The neck is perfect aswell, and shows a super nice quartersawn grain. Playability at its best. Electronic is perfect, flawless working condition, so is the hardware and tremolo unit, no rust or worn part, all is perfect.
This great looking Ibanez JEM777 was part of Alessandro Cortini's Ibanez and he sold it to me in summer 2018 while I was at his place. You can trust this martist when it comes to good guitars, he knows his stuff. I also had my own Ibanez in the very early 90's and there's no comparison when the actual production, these late 80's and early 90's Ibanez were superb guitars with great craftmanship and excellent wood quality. This guitar really has a killer neck with amazing comfy satin finish. It comes with its original case in excellent condition and tremolo arm.
Specifications:
1991 original Jem 777 Desert Yellow Steve Vai Signature
American basswood body
one piece maple neck
frets 21-24 are scalloped
6100 Jumbo frets
3-color disappearing pyramid inlays
Cutaway heel
Di Marzio PAF pro & JEM single coil pickups
Made in Japan
incl original hardcase & tremolo arm