Leadmusic, Geneva - Switzerland
2 rue Albert-Richard,
+41 22 731 62 72

Ask for our offer
Regular price: CHF 5,390.00
VAT 7.7% included. Without shipping costs.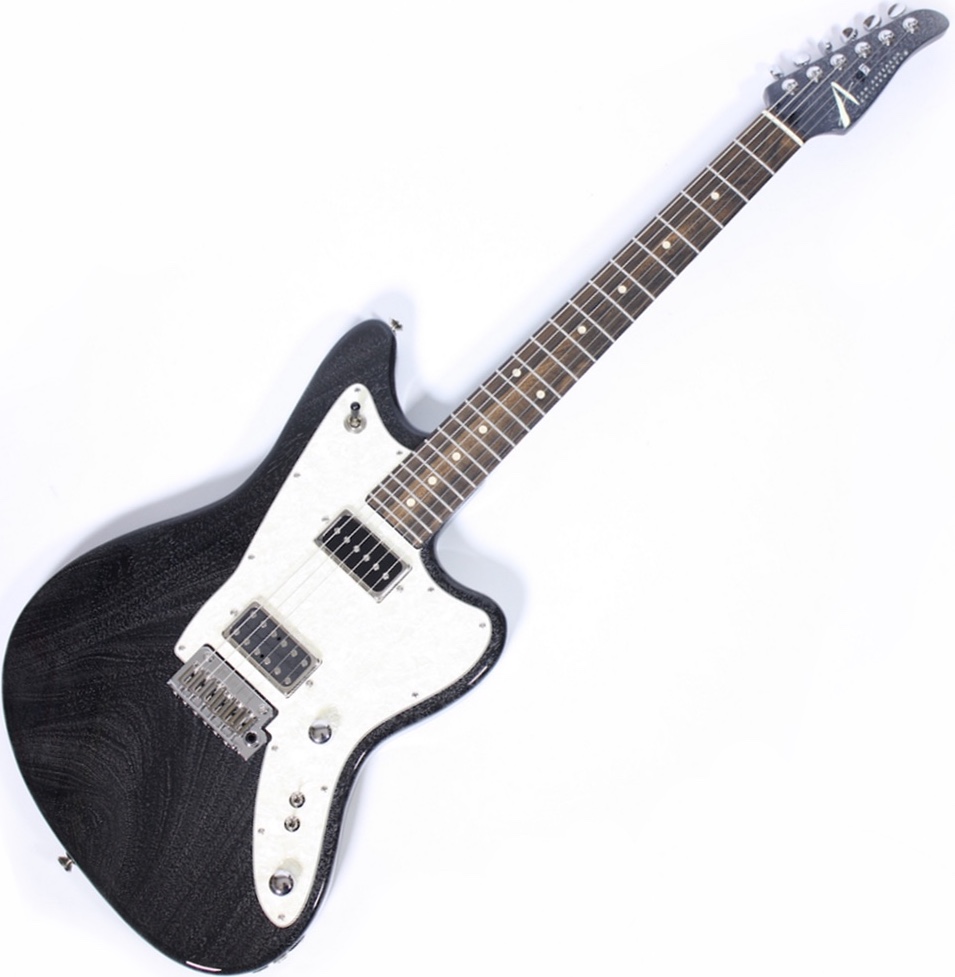 Information:
We already had a few Tom Anderson Raven, but that Superbird is a really special one !!! This model was seen at the NAMM 2019 and Anderson agreed to reproduce it for us as a special order, here's our version of the nicest looking Raven Superbird featured in Anderson's website as "the darling of the show". That guitar is a killer looking instrument !!!
Back in mid 2016, we ordered Tom Anderson's new model, the Raven Superbird. This guitar is a more compact Jaguar size with shorter scale, nicknamed Shorty (for Gibson's scale) and as you would expect (being an Tom Anderson instrument) it plays incredible! Giant, full body chords & big bends on a guitar that is just ridiculously in tune… Since then we often had Ravens on stock, and at the NAMM in 2019 we had a crush on their new finish, Black with White Dog Hair. So here's the custom ordered one, finally landed here at Leadmusic after months of building process. It comes with a lighweight mahogany body, a satin mahogany neck with the most beautifull Ziricote fretboard we saw so far, and a Pearl White pickguard. The Happy Medium neck shape is perfect, and this Raven Superbird is an amazing player, thanx to the quality of the building process and thanx to these Medium Jumbo frets and the perfect fretjob. It sports the fantastic sounding PH1 and HC3 pickups, with a regular 3 way toggle switch and 2 Cut mini switches.
An amazing instrument, top notch quality and wood selection, effortless and super confortable guitar.
Specifications:
Raven Superbird based on custom order 2019 NAMM model
Mahogany body
Natural high gloss finish
Mahogany Neck (Satin Back)
Medium Jumbo Frets with Happy Medium neck shape
Shorty scale (24 3/4-inch)
Highly figured Ziricote Fingerboard
Natural satin headstock
1 11/16 in. Nut
Buzz Feiten Tuning System
Chrome Vintage Tremolo Bridge
PH1 & HC3 pickups
3-Way toggle switch
2 Cut mini switch
Pearl White Pickguard
Deluxe Hardshell Case and strap incl.