Leadmusic, Geneva - Switzerland
2 rue Albert-Richard,
+41 22 731 62 72

Ask for our offer
Regular price: CHF 3,490.00
VAT 7.7% included. Without shipping costs.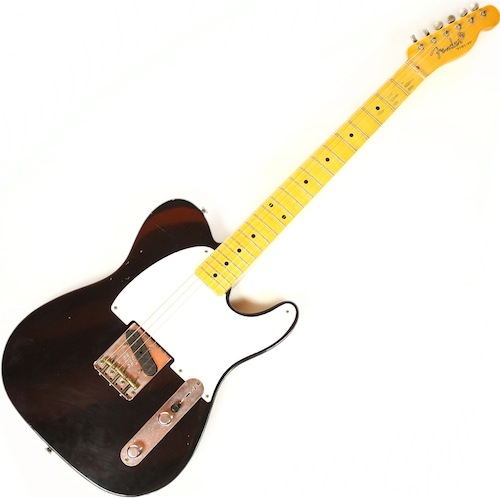 Information:
An amazing guitar, really !! This limited edition was a custom order from the NAMM 2017 show. Under the awesome Journeyman Relic finish we have an extra light two piece Ash body. The single pickup is a Josefina Campos handwound Broadcaster and has some cool wiring. In position one on the three way we have 'Full Throttle', the pickup is wired straight to the output jack bypassing the pots. Position two runs through the volume control only whilst position three runs through both the volume and tone controls.
The neck is actually pretty unusual in as much as it is constructed from rift-sawn Maple. Rift sawing is actually the strongest, most stable cut of wood possible (more so than flat or even quarter sawn) but is rarely used as is comparatively quite wasteful, you don't get so many necks from a log! And this is some neck with a chunky '52 'U' profile but a slightly flatter than vintage 9.5″ radius, narrow & tall 6105 frets and a bone nut.
Ships with a limited edition neck plate, certificate & case and lots of candy.
Specifications:
* Custom Shop Full Throttle Esquire Journeyman Relic LIMITED NAMM 2017
* Sorted for Lightweight ASH body
* Light Tint – Nitro Lacquer neck finish
* Riff Sawn Tinted Maple Neck Wood
* 52 U neck shape
* 25.5"
* Custom Shop Broadcaster
* Full Throttle Esquire Wiring (Rear: Pickup straight to output jack, Mid: Volume Control Only, Front: Volume and tone controls)
* Vintage with Brass Saddles
* Fender/Gotoh Vintage Style Machine Heads
* White Esquire 1 ply pickguard
* Fender Custom Shop Limited Black case